I am the mother of a three year old son. Last year we went to kindergarten. Come on – it says very loudly. How much it cost me nerves, sleepless nights and persuasion. The child did not want to go to the kindergarten.
The first time – he is the most difficult
When I first brought my son to the group, I was allowed to stay there so that the child would not worry about where his mother had gone. At that time, there were only 7 children in our group together with my Artyomka.
The teacher and the nurse are very kind, caring women. They explained that the first time you can walk for 2-3 hours. I was also told that I would have to spend a few days with my son in the group so that he would get used to it.
Artyomka is not very sociable. Therefore, he was spinning around me more and more and did not want to play with the other children. He just did not move away from me! He refused to eat, did not want to take other people's toys, and cried all the time and asked to go home. We left after an hour and a half.
Every day like a barricade
The next day, the son cried and rested – did not want to go to the kindergarten. I promised that we would stay there not very long. In the end, as soon as we came to the kindergarten, the nagging started, I want to go home.
And so every morning. Artemka woke up and immediately began to whimper. He refused to eat at home. When I wore him, he undressed. I pull him a second sock, and he already took off the first. Once I even threw my jacket and hat over the balcony so that I could not put it on. I was looking for this clothes for almost an hour!
And the river of tears – it was stable. My heart was breaking apart, but I understood that a kindergarten was inevitable. And because I thought that soon Artemka would get used. But time passed, and my son just was capricious.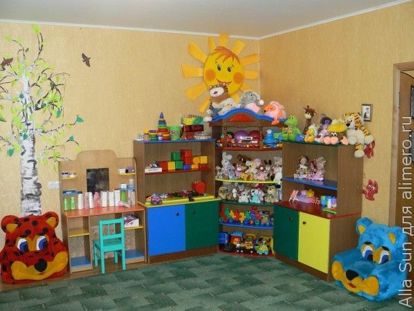 Acquaintance with classmates with the help of a child psychologist
Our son was not the only one who behaved in this way. The teacher offered to invite a child psychologist. There is a psychologist in the kindergarten, but at that time she was on sick leave. We agreed to a psychologist from a nearby kindergarten.
A very nice woman came. She was smiling all the time, asking the children who was called and what was their name. Then came up with the game Tezki. Children with the same name should hold hands. And those who do not have namesake, also united, but with her. It turned out pretty funny. Artem had 2 namesakes. He was very happy about that.
But still we are going to the garden with tears. Artem recognizes only those children whom he met at the beginning. He loves the teacher very much and does not leave her a single step, is jealous of other children. In general, getting used to kindergarten is very difficult here.
And how did your children get used to going to kindergarten? What can you advise me? How to captivate Artemka?