Weekdays are finally over, and there is a long-awaited vacation ahead – the sea, the sun, the beach, the swimming pool and rest-rest-rest! There was a last spurt – to collect things and fly to all inclusive. But if we know everything about ourselves and flew more than once, then there is some gag with the child's collections. How will the baby take the plane? And if you fly longer than 2 hours, you need to feed him – what will he eat? How to entertain a child in flight? What to take? Is it possible? Is it necessary? So, attention: the child on board the aircraft! what to do? 🙂
First, relax and breathe deeply and evenly. From what you are nervous, hurry and try to do quickly, quickly, you get only bad, bad. If you are already registered for the flight, then you will be announced at least three times by loudspeaker, if suddenly you are late.
Secondly, on very many flights (and even more so in civilized countries), parents with children are skipped without a queue for boarding. That is, if you are already in the drive, you may not even have to stand in line. But we must always remember that before all passengers are loaded, you will not take off, so think about where it is better to spend half an hour more time – in a cramped cabin or a spacious corridor. You also give tickets with seats (with rare exceptions).
Thirdly, and here you are inside! What to do? Spread out things and seat the child so that he was comfortable. Get your favorite toy, show seat belts – you have exactly 5 minutes to get settled yourself.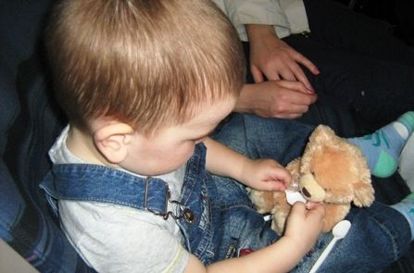 Fourth, think in advance about hand luggage for a child. It should be not only well-played and favorite toys, but also something new. The more possibilities a new toy has, the better and longer it will last. Clockwork cars that can be let on the table, dolphins with ringlets (water toy), a wolf collecting eggs (electronic toy) are classics of the older genre. You can take with you interesting (for a child!) Books and small games – depending on age. Remember that listening to music and watching cartoons on an airplane is also possible.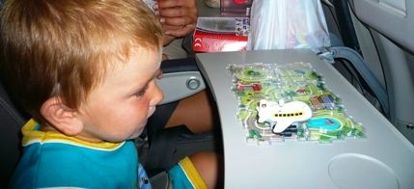 Fifth, consider what you will feed him. Even if the flight is not long, plus the time for waiting, registration and the way to the airport. The child will definitely get hungry. Remember that child nutrition is not included in the list of restrictions on transportation in hand luggage, that is, you can safely take with you what your child eats. But it is better if they are branded baby food cans or easily identifiable products, and not own thermos with an unknown than. The border guards should have no doubt that what you are transporting is baby food. Do not collect food on an industrial scale 🙂
On take-off and landing a child can be attached to the chest or give something to chew, drink, suck. The main thing is that the child swallows, then he will not lay his ears, and he will not feel discomfort from the flight. A few days before departure, warn the child that you will fly on the plane, show it in the picture, demonstrate the sounds, play with him on the plane. Then at the airport you will be able to avoid fears, whims and tantrums.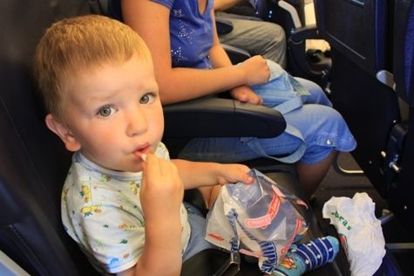 And the last. Remember that an airplane is a public transport that cannot be reached from the last stop. Try to ensure that your child, in spite of all his awkwardness, does not interfere with other passengers and does not scream like a police siren. Even if it personally touches you, others may think differently 🙂