On the example of my daughter, it seems to me that at the age of 4, there is a kind of transition from childhood to a more adult, preschool one. No, the child remains a child, but his thinking and behavior change.
Today I would like to tell about the peculiarities of the development of children of four years on the main parameters.
It is believed that, unlike younger children, the speech of a four-year-old child should be understood by others, and not only by parents and relatives. Of course, some words and symbols that you can use among each other are permissible, but in general the conversation should be clear even to strangers.
As for the clear pronunciation of all the letters and sounds, opinions differ somewhat. For example, my daughter and I were at a speech therapist, because I was worried about the absence of the letter P in speech, to which the doctor replied that it was not yet time to worry. While other experts can sound the alarm about this and in three years.
The peculiarities of the development of this age group include the ability to fully engage in dialogue, the development of coherent speech, knowledge of their personal data data (surname, name, address).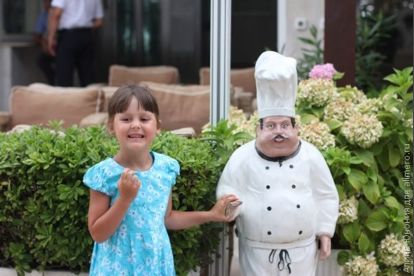 The main physical skills include ball handling (catch, throw) mastery of basic movements (running, jumping on one and two legs), many children in 4 years can ride a bicycle (including a two-wheeled one), a scooter and rollers.
My daughter has a bicycle, but she still does not allow taking off the extra wheels, she is afraid to drive without them. But on the scooter rides confidently and masterly since three years.
I recently wrote about the benefits of ball games, this is an indispensable and inexpensive tool for developing reaction speed, attention, dexterity, accuracy, etc.
In terms of external physical parameters, there are generally accepted norms, but still it is necessary to take into account the genetic factor. For example, it is believed that the growth of girls in 4 years according to the norm of 98-109cm, and weight 14-18kg.
My daughter is somewhat beyond this, but she is by no means the only one among our large company of peers. All the girls are different and this does not mean that they lag behind or overtake in physical development.
This item includes the following skills required for four-year plans:
– the ability to dress, including, zip and button buttons
– ability to eat independently (with a spoon and fork)
– the ability to self-service in everyday life (wash hands, go to the toilet, etc.)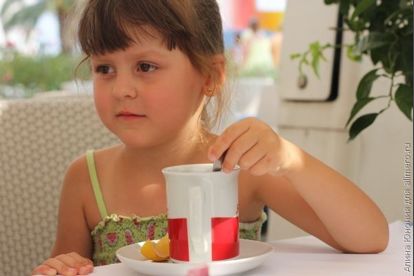 Here, my daughter has order, though, often I dress her myself, even though I know that it is necessary to bring up independence in a child. But when we are late to the garden and every minute counts, then I feed her and dress her.
As for service, the situation depends on the mood. For example, yesterday my daughter woke up before us, she got up herself, changed her clothes, washed herself, took out yogurt and compote in the fridge, ate and sat, folded puzzles until I got up. But this is the exception rather than the rule.
After four years, children usually navigate freely. collective concepts (clothing, furniture, animals, plants, professions, etc.), seasons and days of the week, know how to solve simple logical tasks (find too much, find differences, point out the error on the image, compare items by size and other characteristics).
From myself I also want to add that after four years, my daughter began to actively ask questions. And if before they were thoughtless and spatial, now they are more thought out, or something. For example, today it was: Why, when you throw a pebble into the water, do circles diverge from it ?, What happens to food in the stomach ?, How does the skin fasten to me? etc.
The above criteria are indicative. After all, it often happens that a child is more inclined to physical exercises, therefore, in this area he is more successful than his peers.
I also want to note that although this is not indicated in the developmental norms, many children of 4-5 years in our company are already beginning to read, perform simple mathematical operations and write.
And what can your children in 4 years?