Preschool children are usually prone to imitation. For some, the elder brother is an example, but for someone – a favorite hero from a cartoon or a fairy tale.
Passion for dresses and beautiful shoes from my daughter began after 2.5 years. She began to pay attention to clothing and shoes of passers-by, told that she wanted to wear a beautiful dress, shoes and meet her prince. Then, however, decided that her prince – a friend Dima.
I had to purchase the required attributes of princesses – a magic wand, a crown, a fan. A useful acquisition turned out to be a book that tells how a real princess should behave – be polite, tidy and educated.
This character came into our life closer to three daughter years. Along with him included books, talking toys, puzzles, magnets, a visit to the puppet theater The Adventures of Luntik and his friends, and even toothpaste.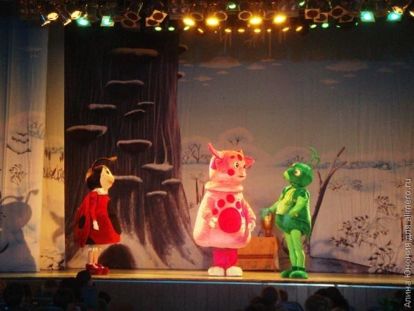 This is a rather positive and well-educated character (as opposed to Kuzi's troublemaker and harmful caterpillars), I like his speech, some words from which are firmly settled in the daughter's vocabulary.
To my joy, the fascination with this cartoon did not last long, but did not pass without a trace. In his memory there were: a backpack, a T-shirt, a kengurushka, magnets, puzzles, a collection of chocolate egg figurines and several books.
I do not like that Masha is positioned as a positive character. My opinion is that she is a mischievous, disobedient, wayward and naughty girl, and I would not want her daughter to consider her a role model.
Where do without the fairies from the Winx Club? Now we have just the height of this fever – every month we buy Winx magazine, complete with which we sell various accessories with images of fairies (pillow, umbrella, cosmetics bag, etc.).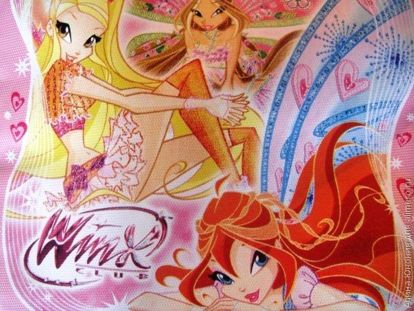 In addition, the daughter loves to play the game on my phone, where every fairy needs to pick up an outfit, organize a party, invite guests. There are a lot of figures from Kinders, Tekna's doll is a favorite of our daughters, and in tights with the image of fairies she is even ready to sleep.
In principle, the characters are not bad, they behave like ordinary girls – they love beautiful clothes, take care of pets, save the world and are friends with boys. I am glad that for some reason my daughter stubbornly wishes to watch a cartoon in English (sometimes in Polish or Italian) and even remembers some phrases.
This is my favorite cartoon! Thanks to him, her daughter confidently believes in English, knows colors and even performs simple arithmetic operations.
I plan to implement the idea and order in a photo lab a T-shirt with a cheater (nasty fox) and Swiper! No swiping! (Crook! Do not steal). In the meantime, my daughter has a T-shirt with Dasha and a few workbooks with copybooks, which I also like very much.
Favorite heroes have, probably, every child. It is important to explain to your child in time what is good and what is bad so that he chooses the right object to follow.
And what characters do your children love and how does it manifest itself?