As far as I remember, in the years of my childhood the place of residence of my favorite characters was limited to TV. The most that was still – pictures in magazines and inserts in chewing gum. Disney cartoons were very popular, but to hold in the hands of a plush Donald Duck or princess could only dream of.
Now, cartoon characters can be seen everywhere – from candy wrappers to dishes. Children want to not part with their beloved heroes, even while sleeping – please, there are bed linens with appropriate prints.
For two years now, my daughter has been fond of seven girl wizards – she knows by heart not only their names, but also pets, boys, names of transformations and magical properties.
Manufacturers and toy stores earn a lot of fairies. At first, I thought that everything would be limited to dolls. Dolls needed a house, clothes and many other accessories.
Birthday gifts exceeded all her expectations, because I was engaged in their purchase. Everything was with the image of fairies: swimsuit, pajamas, blanket, towel, cup, bag, wallet and more. By the way, if you buy licensed things, then their quality is excellent – all the gifts still serve us faithfully for the second year.
I naively thought that it would be enough to buy seven dolls. It turns out that there are several series of them – harmonics, enchantix, magic hair, fairy shopping, etc.
By the way, as clothes, toys are much more profitable to order from the USA. If you do this in advance and save on urgent delivery, the savings can reach 50%. And many of our dolls and not sold – for example, the witches from the cartoon about fairies.
Like most girls, the daughter loves Disney princesses. Fortunately, they are cheaper than the Winx. But, as usual, there were not enough dolls, we had to go to the Disneystore site.
The range is magnificent – from toys to clothes and carnival costumes. But the prices, alas, are high. Therefore, I buy there only on sales.
So we had nightgowns, T-shirts, a swimsuit and even sunglasses. And recently for the promotion, I ordered unique dolls there, which we hadn't seen on sale – the frog princess, Pakahontas and their princes.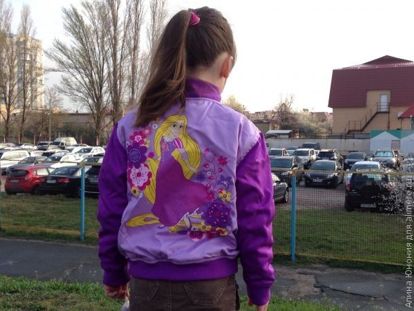 Save and at the same time to please the child is easy. For example, when I could not find my daughter a T-shirt with the image of a fox-rogue from Dasha-ranger, I bought a plain white T-shirt and ordered an image print at a photo lab. Similarly, you can do with the dishes.
We cut out images from puppet packings and make applications; sometimes we use pages from subject magazines as posters.
In the children's passion you can find useful moments. For example, a daughter with great pleasure is engaged in creativity and study, if all this is connected with her favorite characters. Manufacturers are not asleep, so there is a huge amount of markers, scissors, workbooks (writings), colorings, puzzles, and even an alphabet with fairies and other heroes on sale.
So we learned to read – I wrote the names of cartoon characters in syllables, and my daughter read.
I also liked the huge album with Winx stickers – the ocean mission. Stickers for it are inexpensive (1 hrn or 4p per one), and there is plenty of useful information in the album – interesting facts about the underwater world.
It seems to me that there are much more advantages in such hobbies than minuses. Memory, accuracy develops, there is a desire for order and collecting. I see only one minus – the considerable cost of all these entertainments. But at every opportunity I still try to please my daughter.
And what characters do your children love? How fanatical are their hobbies?