Recently, my ex-husband and I had serious (in my opinion) disagreements about his communication with the child – he began to teach her nonsense.
Innocent at first glance. But I am sure that they may backfire on their daughter in the future. I am outraged, and our dad shrugs it off – do not dramatize!
Even when he lived with us, it seemed that he was jokingly offering to convince the child that boiled sausages are the most delicious sausages in the world. So, they say, everyone will be happy – and the child, and he will not have to eat an unattractive dish. Then it was still early for the child to eat sausages. Therefore, it did not go further conversations.
The next sentence from the pope was to teach the child to speak and correctly use the word uslepki as an easy word form of the term idiots. And what, sounds cool, not rude, let him use it. She offered him to take and bring the child from the kindergarten. I do not want to defend this opinion before educators.
Then he left us, he was not joking. But just a month ago, he taught the child a strange dialogue:
– You have come a hard way!
– I wasted my time thinking.
– Worthy pastime.
My daughter happily runs after me and asks him to speak with her. Nothing wrong. I did not focus on this. Although I did not understand why this child?
But last weekend I just broke up. It all started with the fact that dad began to teach the child some idiotic poem with an implication on Lenin sent everyone to May Day. He sent everyone, but did not go himself. Literally I do not remember, but the meaning is exactly that.
Everything ended with another cleverness from papa. Recently, if her daughter likes something, she admires: How gracious! Apparently, she heard a word somewhere dramatic, but did not listen and did not understand in a sense. And her father convinced her that in such cases Kosherno should be said !.
And what a good word! – sure our dad. And the fact that my daughter and I are not going to go to the synagogue, it is not an argument for him to abandon him.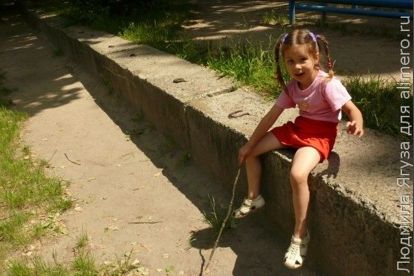 The results of my bubbles
This is where I freaked out. I see how a child who sees him once a week literally looks into his mouth and is ready to do everything so that only his father will stay with her longer and pay more attention to her. She takes everything on faith – this is what PAP said so! And he is with her, as with a trained kitten or a talking parrot.
Yes, now it looks funny. But when the child grows up, they will at best not understand him, and at worst they will laugh. And then an understanding will come to her that papa was joking at her. It seems to me that this epiphany will be a great personal catastrophe.
When I tried to gently explain to her that it was not necessary to say so, nobody would understand you that Dad was just joking, she immediately took the side of Dad. And I understand that this forced choice between mom and dad does not benefit her either.
And dad shrugs it off. He says that she will grow up and accept everything normally. And in general, I'm all too dramatized. But so far, the three of them have agreed to the extent that she can speak kosherly only by talking with her dad.
I don't know, maybe I reacted so violently because the husband's mistress is a full-blooded Jew. But I also cannot watch how a child is really made of a parrot for fun.
Or am I really dramatizing everything?