In the era of computer games and the abundance of toys, children are less and less interested in fiction. However, we should not forget that it is she who partially ensures the cultural development of the child and the formation of his speech.
What is the difference between fiction and the same folklore? In that it has an author (anonymous is allowed), but folklore does not have it.
It all starts with simple children's poems that are easier to read and remember. The well-known quatrains of Agnes Barto, Korney Chukovsky's longer works are popular among babies.
I admit honestly, in my daughter's for 2-3 months I tried to calm her by reading the Wizard of the Emerald City. Alas, my attempts failed. However, many of my friends have argued that babies are calmed by the timbre of my mother's voice, regardless of what my mother says – the Iliad or the multiplication table.
Of course, every child is individual. For example, my daughter began to show interest in books only at the age of a little over 2 years. Moreover, acquaintance with the books did not begin with the poems, but immediately with the large (for a two-year-old child) works – Cinderella, Thumbelina, Puss in Boots, The Ugly Duckling and the Little Mermaid.
Within a few weeks my daughter's speech was enriched. We were at the train station when the baby heard the clock fight. Her face instantly became serious and she said: Your time is up, now the dress will turn into rags !.
The appearance of a very large number of words in the daughter's vocabulary I am grateful precisely to fiction. Here are some of them that, in real life, she, I am sure, would not have met: an important gentleman, a ball, green with envy, a cloth flap, a magic potion, etc. You must admit that in everyday life such words and phrases are practically not used.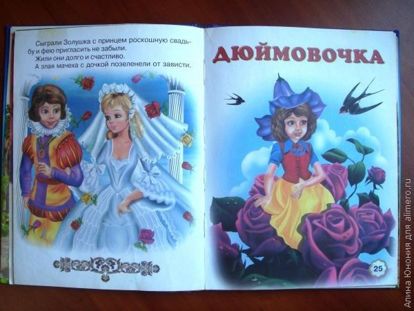 In addition to vocabulary, literature teaches the child literacy, correct word order in the sentence, stress, eliminates possible common mistakes in speech, for example, in the same Cinderella it is very often used to put on in the appropriate context.
Later, the daughter got a taste – in addition to new tales and stories she asked to buy her already available, but with other illustrations or in a more detailed version (as was the case, for example, with the Little Mermaid).
Of course, fiction is not only classical works, but also modern poems and short stories; you should not limit a child to only classical literature.
Once again I repeat that reading is important and necessary. This has a beneficial effect on the development of coherent speech, enriches it with popular expressions, idioms, and synonyms.
The ideal option is reading with the child, the baby examines the pictures and compares them with the text heard (which additionally develops auditory perception and imagination). Many people practice audio-tales, but, to be honest, I never tried to put them to my daughter.
Do you introduce kids to fiction?