Cases in life are different. Sometimes they are funny, and sometimes unpleasant. And there are situations that immediately seem unpleasant, and over the years become funny or even funny. So it was with one case in my life.
When our daughter was born, my husband and I began to recollect everything that concerns small children. The son grew up long ago, so we didn't have a single children's toy in our house, and we haven't gone to the circus, the zoo and other centers for the entertainment of children. We were looking forward to the time when the daughter will grow up to lead her children's town Fairy Tale. In our province, this is one of the few interesting places for the entertainment of children of different ages. My husband and I thought that it would be interesting for her to visit the Fairy Tale.
Long-awaited trip to the playground
It was an autumn warm day. And we wanted to go somewhere for a walk with the child. On the shuttle bus, we did not want to go, but decided to go by car. My husband followed her to the garage, and I quickly began to prepare for the trip. My daughter loves to ride a car and was looking forward to our journey to the town of Tale.
Satisfied and happy we went by car, anticipating a wonderful vacation with the whole family and a lot of pleasant impressions. Along the way, we were surprised that there are a lot of traffic police posts in the city. Usually this happens when visiting a high-ranking official of our city.
We quickly arrived at the entrance of the town of Tale. It remains only to put the car on the alarm, and then you can go have fun and take a picture of the memory in the children's town.
But it turned out that the husband cannot find his bag with the documents. And there were a driver's license! We began to search all over the car and even in the trunk, but, unfortunately, we did not find anything. The situation was tense. The child was torn on a swing.
What was the way out of this situation? Spit on everything and go to enjoy the rest, and what will be there? And after going home by car without a driver's license and maybe maybe blow over? No, we could not risk it. We were not ready to pay heavy fines for driving without a license.
Having fun without dad
But my husband wanted so much to go with us! After all, the first time my daughter and I went to an amusement park! He wanted to see how she would play and ride on different swings and, of course, he wanted to take good photos.
As a result, my husband decided to go home on a minibus for a driver's license. And my daughter and I went to have fun in the town of Tale. In spite of everything, we had a great time with her. We rode on the swings, walked around the big ship, climbed the train and even traveled by cars. In addition, we managed to participate in children's competitions.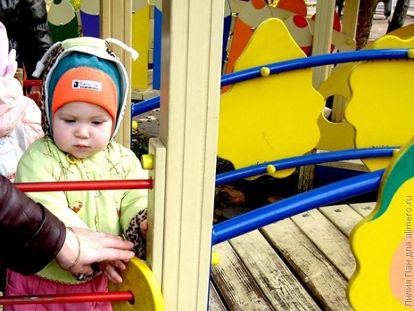 And at this very time my husband was driving across the city to the garage, because he decided that the documents were there. But they were not in the garage, and he, stirrup head, ran home. After 2 hours, my husband came to us with the documents. However, by this time the child was already tired and wanted to eat, so we immediately went home. On our way … not a single traffic police post met.
So ended our fabulous trip to the playground. Now we remember this case with a smile.
And what have you had cases when traveling by car? Have you ever forgotten important documents?