Recently, the eldest daughter began to show interest in exercises with dumbbells. Rather, she was always interested in them, but before she had a hard time working with them, and it wasn't necessary. Now, when she plunged into the sport, it is already quite possible to connect classes with this sports equipment to her usual trainings.
When to start
If dumbbells are really dumbbells (i.e., have weight), then you should start practicing with them no earlier than 7-8 years. If you have dumbbells made of soft materials, and the weight of which is insignificant, then you can include exercises with them in the usual exercises that you do with your child.
This is necessary in order for the kid to learn how to work with them correctly, then in the future he will no longer be swinging a real sports equipment as he likes.
How much to do
You should deal with dumbbells wisely, if you, of course, do not want to grow a bodybuilder from your son or daughter. For the overall physical development of one or two workouts per week will be enough.
What dumbbells to choose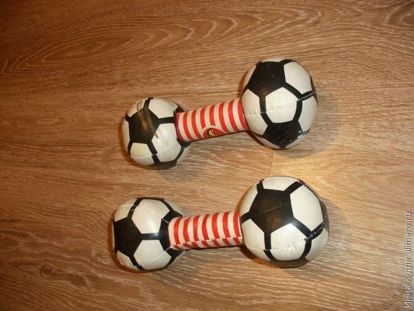 Today in stores a huge selection of sports equipment. There is iron for real men, and beautiful and elegant dumbbells for women. For a child, choose options with a small weight (up to 1 kg) and a small handle diameter so that the unit is comfortable in your hand.
Warm up
Before any exercise should warm up. And before training with dumbbells it should be done especially carefully. Warm up your muscles with running, jumping, bending and swinging your arms.
Set of exercises
Ip – legs shoulder-width apart, arms hanging at sides, palms facing inwards. Raise the dumbbells to the armpits, then give up.
Ip – arms bent at the elbows, elbows pressed to the ears, dumbbells near the back of the head. Straighten your arms, lower.
Ip – standing, feet shoulder-width apart, arms hanging loosely down. We carry out the turning of the body, at the same time we raise and spread our arms to the sides, return to the starting position and do the same in the other direction.
Ip – standing, hands rest on shoulders, palms turned to the body. We lift dumbbells up, we lower down.
Ip – standing, arms – at chest level, elbows pressed to the body, palms turned to the body. We lower hands down, we raise in a starting position.
If the exercises seem to be difficult, you can just sit with the dumbbells.
Completion
After training, you should perform a set of stretching exercises, as well as gradually restore breathing. This is facilitated by walking at a slow pace and deep breathing.
Total
During classes, the main thing is to enlist the desire and support of the child himself. And it is better to buy 2 sets of dumbbells: for yourself and for a son or daughter.
And how do you feel about exercises with dumbbells for children?