As a child I had a book with little stories, one of which was this – the Evil Mother and the kind aunt. In a nutshell: there was a girl Dasha, she had a mother and she had an aunt. My mother was angry – all the time she made Dasha study, work, do homework, etc. And aunt, on the contrary, the kindest woman – walk, play, draw, do nothing … This is a saying, a fairy tale is on 🙂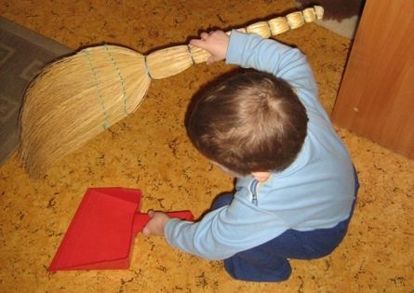 I love my child very much, but at the same time I can hardly be attributed to a kind aunt from the story. I make the child work, behave, obey, etc. Of course, I do not stand over him with a belt and do not give orders in a commanding voice. At the same time, if you need to remove your toys – then you need to remove the toys. No excuses. If you can not mess around the table, then it is impossible. No options. And so on. In all matters where he can help me, I attract him.
Yes, it is possible that the floor was not swept up, in fact, it was vacuumed badly and only 1 square meter of the corridor was washed, but after all, Rome wasn't built right away either. This practice leads to the fact that the child begins to be called to help himself. And I always agree, even if I know that the cleaning will now take two hours instead of one, and then everything will have to be redone and washed. It is important for me that the child is able and willing to work. I do not think that it is a scarlet flower, from which you need to blow off dust particles all the time and walk around on tiptoes.
Likewise with the rest of life. It is important for me that the child is able to communicate politely, not by shouts and kicks. He knew how to be friends, he knew how to play with someone. This is important primarily for him, so that in the future he can easily establish contact with other people and be able to conduct a dialogue. I often hear on the street what a good boy I have – polite, well-mannered, friendly! What instead of taking (or taking away) a toy, he says, please give, and in most cases carries some other one to change. He gives way on a swing, if he rolls around for a long time, and someone came new. He waits patiently for his turn if the swings are busy. Because you can't do otherwise. This is iron. So when I hear praise for a child, I usually reply: Yes, he has an evil mother! 🙂
Of course, all this is achieved by explanations one hundred thousand times one and the same, strength of will and firmness of character. If it is said not, then it is impossible. And even if you loudly poorat on the street, it will still be impossible. And even if you start a tantrum with an exemplary performance in the form of felting on the floor, you will get stuck, and still it will be impossible. Actually, therefore, there is no hysteria for a long time 🙂 Because it is useless.
A completely different story is obtained with a kind aunt, in the role of which other relatives can act (and act). For example, if they watch the last cartoon with their grandmother, then during this time I can cook the soup. And when I come in and ask, was the last half an hour ago, then? Grandma sighs: well, he asks. Same with toys. If they go for a walk, he will definitely roll it out on a typewriter – he asks! If something is impossible, but if you very much get around, it becomes possible. Alas and oh for me = /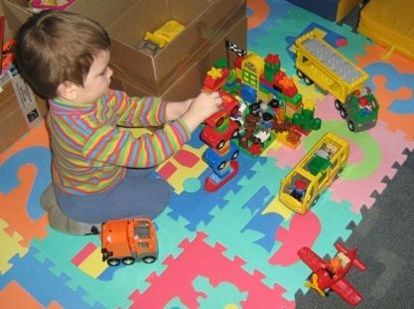 I want to make a reservation that my child has a lot of toys, books and other different devices and gadgets for a pleasant pastime. He draws, plays, rushes around the apartment at breakneck speed, and climbs into all the puddles on the street, which is why he comes home wet from the knee – that is, an ordinary such normal child. I am not such a bloodthirsty mother who arranges a concentration camp for a child, but my word is iron. And in a number of situations, I get exactly the evil mother from the story. By the way the end of it sounds like this:
Dasha grew up, became an adult. Well sews, knits, friendly and hardworking, a lot of things can. Everybody asks Dasha who taught her to sew?
– Mama.
– Who taught you to knit?
– Mama.
– And where did you learn to cook so tasty?
– Mom taught.
And about Aunt Dasha will not say anything.
And how are you? Who are you for your children – evil mothers or good aunts? 🙂