I love to spend time with my little daughter. Most recently, she was a tiny, helpless little man. And now she has become so clever! Every day she learns something new, and I help her in every way possible. About what kind of educational games we are playing with my daughter, I want to tell you today, dear readers.
Our big wash
We erase, of course, not adult things, but puppet ones. We have a special wash basin. There I pour warm water. At first, I showed my daughter how to wash, how to rinse, how to wring.
Ksyusha diligently repeated after me. And now she herself carries doll socks and says that it is time to wash. I am glad that the child understands – you need to monitor the purity of things.
Game with clothespins
After washing, the laundry must be hung and dried. We have a folding dryer at home. And for my daughter, I stretch the rope at that level so that she can calmly reach. And showing how to hang clothes on a rope with clothespins.
While we have only learned to hang socks, handkerchiefs and other small things. There is still a lot of unknown. I know that such games develop fine motor skills. So we will continue to play.
I always tell my daughter that you need to wash your hands, wash or bathe when you get dirty. So with the dolls. For example, in order to play such a game, I think up that the doll got dirty. And we begin to bathe her.
I pour in a basin of warm water. Daughter brings a doll. We have a special washcloth for the doll, a towel and bathing gel. My daughter gently soaping washcloth and bathe the doll. Then we pour the doll out of the ladle with clean warm water and wrap it in a towel.
My daughter wipes the doll dry and puts it on all clean. This game is very like my daughter. And I like to observe with what care she does it.
Application, modeling, drawing
Also, at home we are engaged not only in everyday duties. We are still drawing, making applications and doing modeling. Most daughter likes to do applications. I cut out the details, and then my daughter collects pictures from them.
We recently made a house. We imagined that it was already evening, and stuck yellow windows on the house. It turned out as if the house lights up, and the windows are lit. I am glad that my daughter in her 2 years understands such things.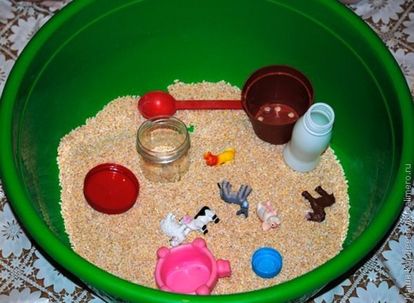 We go through the cereals
Another game is unfolding the croup. We lay out in color, for example, buckwheat and rice. Or in size – beans and peas. My daughter also likes this occupation.
I believe that from many ordinary things you can make exciting educational games for a small child.
What kind of educational games do you play at home with your children? How do you like our daughter's development?