I thought about developing activities for my eldest son even earlier than he was 2 years old. He grew up very clever, quickly learned everything. At 2 years old, he was already quite clear talking and knew all the letters. Moreover, I did not specifically teach him, just gave cubes with letters and called where the letter was, while he was building towers from these cubes.
I bought a whole bunch of developing books, and Serezha with great interest did all the tasks that were offered there. Then I decided that it would be more interesting to work with other children in a group. I found a garden with such developing activities, and we began to go there.
Developmental classes in kindergarten
Classes for kids were conducted with mothers, because the children were very small. There were music, mathematics, where kids studied colors and shapes, drawing, speech development, where they had to make a coherent story on a given topic and learn new words and concepts. There was even physical education with simple exercises and relay races.
Both me and Serezha liked the classes very much, and besides, it was more interesting to study in the company. There was only one minus: Serezha began to get sick often. Unfortunately, not all the kids came to school healthy. This is what I still can not understand. Why bring a sick child to the children's team – to infect everyone?
After all, the usual runny nose in a small child is a whole disaster. He does not know how to breathe through his mouth – this means that he will not sleep all night, but will suffer himself and torment his parents. And if a runny nose does not work out quickly, it can be otitis. In general, I was angry, of course, terrible at such irresponsible mothers.
But we still did not abandon the classes. And even the opposite: I began to leave Sergei in the garden of one. After classes they had games in a group, as in a regular kindergarten.
And even this seemed to me a little: I began to look for what else there are classes in our city for kids. She found a design studio, educational games and chess.
Design, educational games, swimming and chess
At first, Serezha did not like the design. I can't draw at all. Therefore, when he could not do it, she could not help. But there were very attentive young teachers who were able to captivate the child. Now he sometimes gives me such masterpieces as a gift for March 8 that I wonder!
In developing games, the children collected something from the cubes, drew, did various other tasks – I don't remember everyone now. But it all took place at a good pace, they then sat, then stood, then jumped. In general, it was fun and informative.
From 2 years we went to the pool, learned to swim. And at the age of 9, Serezha had already mastered scuba diving.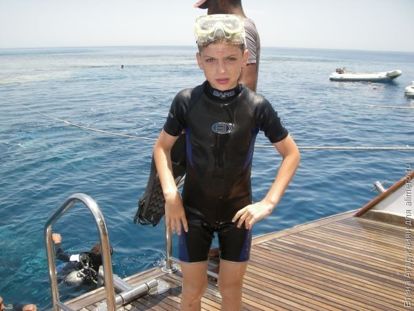 And then we also signed up for chess there, we grew there up to 2 categories, we played at competitions in different cities.
To school – from 6 years
When I was 6 years old, I already gave the child to school, and we dropped all the classes, because the workload is serious now at school. Honestly, I was completely unprepared for this. And more than once, I regretted that I gave the child to school so early.
With the program, he coped without problems, but it was hard psychologically: to sit out in class, and especially in dealing with classmates. After all, everyone was older than him for a year, and many – and for 2 years. He had to learn how to fight: we signed up for karate.
Now he is in the 8th grade, in the class he is respected, but I still see that sometimes it is quite difficult for him, especially during exams. I think his gastritis was formed on the basis of nerves (now chronic).
I gave the youngest child to school from almost 8 years old – and I don't advise you to hurry to send children to school as quickly as possible.