I, like any mother, want my children to be not only well educated, clothed and shod, but also to go to educational circles. Of course, ideally, when the child attends the section that he likes. But how at such an early age as four years old can one determine what a child needs?
It turns out, while only we, the parents, can decide what our children need. I remember that I myself did not go anywhere in 5-6 years. Engaged in drawing, dancing, learning to play the guitar …. But, in the end, she didn't do anything concrete.
Now it's time to take your child to classes. Practically all the circles start working from September, and we wanted to decide in advance. The eldest daughter just turned four years old in the fall.

Development studio
In the beginning we signed up for the modern Pochemuchka studio. There are classes in the form of a game, twice a week. Only two lessons, reading and logic, each of which lasts 30 minutes.
Kids are engaged from 3.5 to 4 years. Many still do not go to kindergarten, so they cry in class. We go to kindergarten, but the daughter gets used to the new team very difficult. As a result, tears began in the first week.
For the next classes I led my daughter with tears. She cried that she was not interested that she did not want to walk. Deciding that no one would be better off, we quit practicing.
But, I am a mother who does not just calm down. I decided to find something that would be interesting for my daughter and where she would not cry.


In October, in our kindergarten, a survey was conducted among parents in which circles we would like to send our children. I noted several options, but then completely forgot about it. A month later, the teacher said that in their kindergarten open additional paid classes.
This is the perfect way for my child. She goes to the kindergarten with pleasure. I thought that this was not a cardinal change of scenery, and perhaps she would go there in a circle and would not cry. We signed up for drawing.
My daughter loves to draw. Now she collects us all at home and shows what to draw.
And, by the way, the drawing circle is not just children who sat down and painted. We have a great teacher who explains how to draw, how to choose colors, how to mix them. Children already at this age learn beauty and aesthetics. It is very important for me.

Musical instruments
More recently, we began to go also to the circle where the teacher teaches children to play musical instruments. Now they are learning to hear music, rhythm, playing on spoons, drums, pipes. Later they will learn songs, play different scenes.
Such activities are useful for general development, so that the child overcomes the constraints. For my daughter this is very important, since communication with strangers is given to her with great difficulty.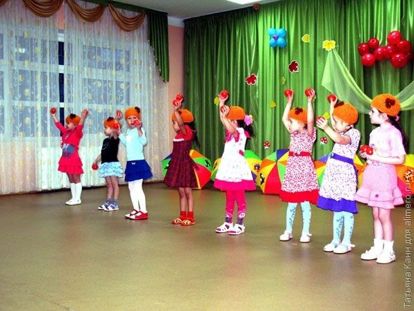 Pool
By the way, another daughter goes to the pool twice a week. While classes there are free, go to the garden. According to her stories, they just blurt in the water, they are not taught to swim yet, but it is still good for health.
In our group, not all parents are allowed to take children to the pool. Although it seems to me in vain. Children after all so hardened. And before each visit, the nurse examines them and at the slightest ailments she writes a ban.
These are the circles my daughter attends. Now she has no time to miss.

What do your kids do?