Every mother wants her daughter to have a taste, a sense of style and measure. Certainly, such qualities as respect for elders, obedience, politeness, etc., are much more important, but today I would like to speculate about how to cultivate the taste of a girl.
From the definition of the concept of taste, it follows that this is the presence of preferences and personal opinions about specific objects, while promiscuity means the absence of taste.
According to my observations, after about two and a half or three years, my daughter did not care what she was wearing. And for some reason, the first object of hatred was the shirt. A shirt is for boys – and even if you burst.
Later, all things of green, blue, blue and, to my great regret, red were referred to as unloved ones. Occasionally I, of course, succeeded in winning, but these are rather exceptions. I am afraid that all pre-purchased jeans, pants, shorts and sneakers will remain lying with tags, for the summer plans for my daughter have only dresses and skirts.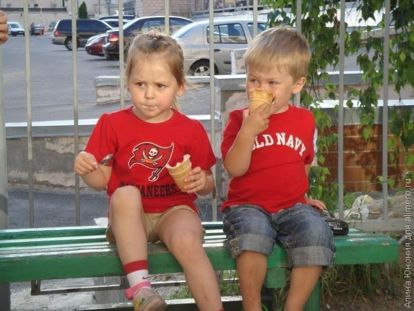 I am sure that it is necessary for the child to explain, to talk about sports and classic areas of clothing. From which it follows that sneakers are not worn with a sundress, and shoes with a tracksuit. When dressing a child, always focus attention on why you are making the choice today for such a reason, why combine these things (by color, by occasion), choose together hairpins and elastic bands to fit. Yes, in the beginning it is boring and uninteresting, but, believe me, over time, the daughter will advise you what is best to wear and why.
During a walk on the street one can observe what people are dressed in, what clothes are selected with taste, and which are not. You should not lay down the concept of expensive = beautiful or the brighter and more brilliant, the more beautiful. It is better if the emphasis will be on cleanliness, tidiness, convenience, expediency of the dress.
Children vs Adults
Often children want to look like adults. You should not go on about it, it is better to explain long and tediously that children and adults have completely different preferences in clothing, and the child dressed as an adult looks ridiculous. This is my personal point of view – I do not like children's make-up in all its manifestations, photo shoots of little girls in mother's dresses and high heels, etc.
Yes, you can fool around at home, play at changing clothes and high-heeled shoes. But this is only at home, and only with mom or girlfriends.
It's no secret that girls, like magpies, love everything brilliant and bigger – if it's a bracelet, then 5 each for each hand and a bead dozen for the neck. Now children's jewelry is sold in sets – if you really want to decorate a child, then try to do with a minimum of jewelry.
I am trying in every way to fight off a pile of junk in the form of fans, creepy bulky hair bands and scarves with rhinestones. Fortunately, in most cases I get it.
Who, if not mom, is a good example for a daughter? Do not forget to take care of yourself, do not dress at random, just to get to the site. Remember that you are primarily a woman, and only then a mother. But the mother, whose appearance determines the presence of taste in her daughter.
Do not postpone the education of the taste of a daughter for later. I do not mean that a child from the age of one should be taken to fashion shows (like V. Beckham, for example), but as early as 3-4 years you need to choose clothes, shoes and accessories with your child, learn how to combine it and nurture respect to things.
Independent (under the strict guidance of adults 🙂 the choice of clothes perfectly raises self-esteem to the child, instills in him self-confidence and awareness of his own importance.