How to occupy two wonderful girls, if it is raining outside the window, books are read, but the games are boring? I suggest to draw with a pencil! Girls frown, they love markers and paints. But I'm not just proposing to draw squares and circles, but a favorite character – Hedgehog from Smeshariki …
Why precisely Smeshariki? After all, it is better to begin your acquaintance with a pencil pattern with geometric shapes. And here is the main trick: Smeshariki is the best example of circles and ovals, and it is much more interesting for children to draw their favorite character than apples or vases.
Of course, teachers recommend starting with rectangles, but due to the fact that my children adore Smeshariki, I decided to retreat a little from the accepted norms.
Step 1. We prepare simple tools: a sheet of paper and a well-sharpened pencil. Wash and sharpener too useful. Pencil is better to take medium soft. For example, HB. With the help of light pressure you can achieve a bold line, or vice versa, thin, barely visible.
Step 2. Outline the contours of the Hedgehog. The body of this character is a circle within which you need to draw a large letter A, which will help you to position other parts of the body a little later.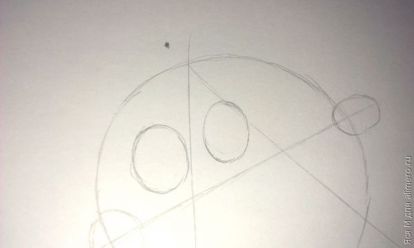 Step 4. Hedgehog needles – triangles of different caliber. From the point that we draw draw triangles in different directions.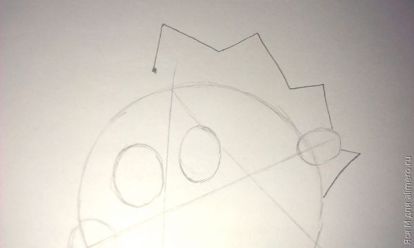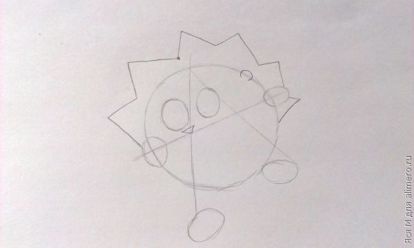 Step 5. We erase too much. We get quite recognizable Hedgehog. Details remained.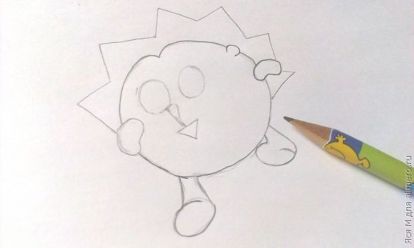 Step 6. The eyes of the Hedgehog are really small. All the things that we so diligently painted were glasses. We finish the rest of the details: ears, eyeglasses, charming smile.