Our child has grown up, and it was necessary to decide what to do – to give it to kindergarten or not. On the one hand, I have to go to work, because the money is not superfluous, but on the other hand, will the new situation benefit the child, will he not get sick anymore and what can a visit to the preschool institution give him?
True, we didn't have much choice, only I could sit at home with the child. One grandmother lived far away, while the other worked.
Positive sides


At the time of our childhood, as I recall, this problem was not so acute. Almost all children went to kindergartens. This helped them learn to communicate with their peers and was a preparation for school. True, in those days there was no such variety of different circles, but still they were engaged in drawing, modeling and speaking.
In modern kindergartens, a huge number of additional classes that are aimed at comprehensive development – physical education, music and sports clubs, choreography, rhythm. Naturally, all circles are paid, and not all parents have money for this.
In kindergarten, the kid learns to observe discipline, clean up after himself, listen to adults, be independent, follow the regimen of the day. I, for example, do not always have the patience to work with a child at home in this way – it is often much easier for me to remove the toys scattered by a baby from the floor than to persuade him for two hours.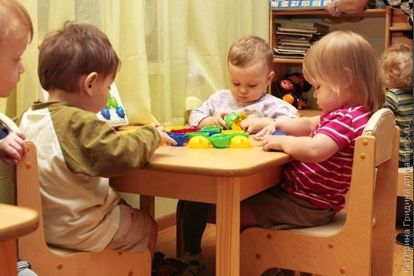 And the main advantage of kindergarten is that in it children learn to live in a team, communicate with peers, make friends, share, and if necessary, stand up for themselves.
Naturally, in a group of 15-20 children, there will certainly be conflicts. It is in such situations that babies learn to give up or, conversely, settle them peacefully. For example, I do not want my child to grow up crying or uncontrollable bully.
Negative sides


In the first place here, of course, the indispensable frequent diseases. I, like many parents, fear the bad influence of other children and the fact that the child will not receive enough attention from the caregiver, and he (God forbid) will be injured. Although no one is immune from this and with home education.
No, of course, if you hire a professional nanny, the problem can be solved. But it also costs a lot of money, and in general, the problems of kindergarten hardly arise before parents with decent income.
My husband and I came to the conclusion that we will give up the child in the kindergarten, and then we will see.