One day, standing in line at the pharmacy, I saw a nice set of children's dishes: a bowl with a lid, a spoon and a fork. A soft rubber circle was attached to the bottom of the bowl from the outside. If you wet it a little and press it to the table, the bowl will not budge.
Then, to my question about the purpose of this construction, the pharmacist told a funny story. Her granddaughter loves to swim and takes every opportunity to provoke an extraordinary bathing. For example, turn over a plate with food. Yes, so that surely bathe, that is, on his head.
I still bought that set, but my daughter prefers to use common dishes, and use a miracle bowl for storing mosaics. However, this design is very convenient to take food on a trip: the bowl is tightly closed, there is a place in the lid for storing devices, and the velcro will allow you to fix the bowl, for example, on a table in the train.
Pros and cons

But what about everyday life? I have often had to deal with the opinion that the child needs to have his own personal table set. Arguments are very different:
– it meets hygiene requirement
– develops in the child an awareness of their individuality
– develops independence: in the future, when the baby grows up – he will clean and wash his dishes himself
As for hygiene, there is a certain sense, of course. The immunity of a small child is weaker than that of an adult and more susceptible to various infections.
However, contact with parents is so close that only individual dishes are unlikely to change the situation. And, of course, no one feeds the baby from a used and unwashed plate.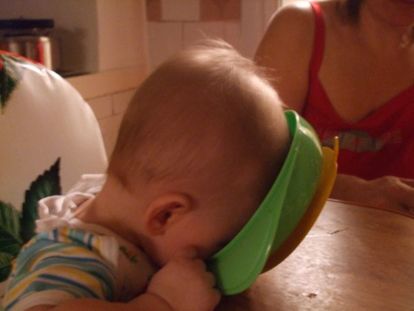 Although the dishes purchased specifically for the child, there are obvious advantages:
– it's hard to break
– bright colors attract the attention of the baby
– it is interesting to eat
– it is light and less in volume than the one used by adults. So, the child will not be in the same situation as the crane, who went for dinner to the sly fox. Remember this story?
But, nevertheless, this is not the first thing in the life of a baby. Many mothers do not think about it at all, but I am very interested in your opinion =)
What do you think about this, and does your child have individual dishes?