I remember when I was little, I definitely did not have a daily routine. Probably because, apart from kindergarten, my parents did not drive me anywhere, did not look for hidden talents. But my daughter everything was different, in a modern way.
From morning to dinner

Like most preschoolers, we go to kindergarten. Already at 8.20 we are there, at 8.30 breakfast.
But Sonya does not dwell in the garden for long. After lunch at 12.30 we go to the gym. The child goes in for sports for 4 days (except Monday). After a workout, we are going to have lunch, and we have about an hour and a half to the next class.
After training

I try to have my daughter spend this hour of free time from outsiders with benefit. While dinner is warming up, I send it to watch cartoons. Not because I encourage this activity, but in order for her brain and body to rest a little, attention has shifted. And in the evening she will not be able to make a claim that she did not watch TV today.
When lunch is eaten, short preparation for school begins. Unobtrusively suggest reading to me while cleaning the kitchen. My daughter already knows that I am doing this fairly quickly, so she agrees without a special debate. But I resort to various tricks, I pull time, and Sonka reads the fairy tale to the end.
After reading time is very small. We determine by the clock how many minutes there are for the games, and the daughter goes 15-20 minutes to her room to spend them the way she wants. Usually, she selflessly cuts pictures from advertising brochures and makes applications. Very rarely, when playing with toys.
And this, too, has a positive point. It became clear to us what her craving was for: creating masks and collages.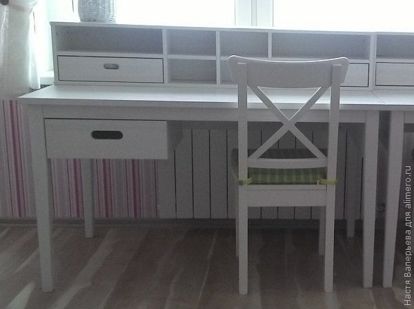 Evening time

The final chord of employment daily is the extra classes in the school of child development: drawing or English.
But on returning home, there are still a few more hours to dine with family. And then play outside (spring and autumn) or drive on rollers at the entrance (in winter). With pleasure my daughter plays with her sister, communicates with her dad, watches TV.
I watched her for a long time, whether there were overloads, whether she was resting enough. And it seems to me that 2 hours of evening time is enough for daytime arousal to subside, fatigue is replaced by calm.
I put the kids to bed at nine, half past nine. My daughter falls asleep sometimes quickly, sometimes she mumbles something under her breath for a long time. But still, I try to make it every day at the same time.
1. The child quickly becomes accustomed to the fact that he is always busy.
2. When the daughter is on sick leave, and on weekends it is noticeable that she is busy doing nothing and does not know where to apply herself.
3. The schedule of the day teaches the child to be collected and focused.
4. When the day is divided into many short parts, each of which is engaged in a specific business, the child does not get tired. The change of activity serves him as a kind of rest. As you know, children feel tired, namely performing a long one action.
5. The child does not have time to get bored. He is constantly busy.
6. Viewing cartoons is perceived as an act, and not as a vital process.
7. And most importantly. At least on weekdays this terrible phrase does not sound: Mom, give me a tablet.
And another very important detail, girls. It's easier for me (mother) to do everything on schedule, when you don't have to postpone anything for the evening or for tomorrow. I know for sure that there is an hour during the day and I try to catch more at this hour: wash the dishes, the floor, cook food, run the washing machine or hang out the laundry.
And it's just great that at this time the child reads or writes the first letters. From the outside it seems that mom is busy only with him.
Teaching a child to the schedule is very simple if you make it up yourself. We did it all by itself. It just became absolutely not enough time and I had to rethink my employment. If it also seems to you that about 20 hours are missing in a day, think about it, maybe the schedule will help.
I cast my vote for him.
What do you think a preschooler needs a schedule?