From early childhood, adults bring up children in the spirit we live in society, therefore it's not too much to show your emotions too vigorously for educated kids !. Do you agree with this statement? I'm not really.
Personally, I am rather stingy in expressing stormy feelings. On events that delight me, I do not respond with cries of delight. Maybe this is the result of education? Or does it all depend on temperament?
The daughter can be glad otherwise, and I, frankly, even envy her a little. Last year we visited all the shops and looked at all the sites, but we did not find the very rare Roxy doll that our little girl dreamed of.
And when we went on vacation to Europe, good luck smiled to us – in one of the shops we were still ours, and, believe me, this was the last doll on the display case.
My husband and I still remember the reaction of the daughter – she just lost her speech from delight, she could not find the right words. And when she came to her senses, there was no limit to joy – she screamed at the whole store. We found Roxy! And the people around us only smiled – after all, children are treated differently abroad.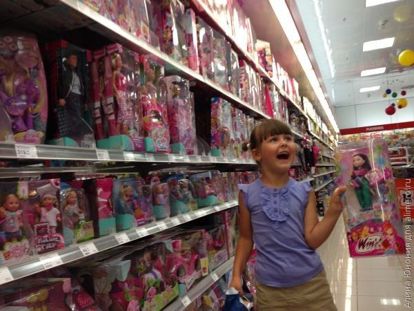 It seems to me that positive emotions need to be given a way out, it's just that all children, due to their different temperaments, do it differently. Someone is crying, someone is screaming, and someone is dancing with happiness. This is childhood – to be what you are.
Here things are a little different. Crying children are not very welcome in public places, and attempts to regret only just throw firewood into the fire of hysteria. There is a lot of information and advice on this topic, someone indulges, someone ignores – each family has its own methods of education.
But, again, should they have a way out and negative emotions? I also cry sometimes, even though I have not been a child for a long time. But I try not to do this with outsiders.
In addition, there is a difference between tears on demand, when a child deliberately squeezes them out of themselves to get what they want and tears that have a real cause. And our parental task, it seems to me, is to minimize the number of these real causes.
As always, the personal example of parents is also important – lovers of vigorously sorting things out in public should not be surprised at the similar behavior of their child, he considers it normal, since mom and dad do it.
Summing up the above, I still think that it is necessary to teach children to control emotions, according to their place of action – even the most violent delight should not be loudly expressed in the theater, for example. But it is quite permissible at a children's party or at the zoo.
After all, what could be better than a lot of childish laughter and bouncing when you manage to collect an entire collection of stickers or a child for the first time in his life swam with a dolphin? That's right, nothing. So let us yourself at least sometimes be a little kids!
Do you think it is necessary to teach children to control their emotions from an early age?