Today I read to you! – My four-year-old daughter once said and opened the book. After a few seconds, it dawned on her: But I do not know how! From this moment we decided to learn to read!
Many mothers accused me of depriving a child of childhood, they prophesied that she would not be interested in school, that I am amusing my own pride. And we still studied! First the letters, then the words, then the sentences. By the way, my daughter learned to read in the full sense of this word only by 5 years.
Principles of preschool education
I do not belong to those mothers who, from the cradle, take their children to schools of early development, teach them to play the piano and foreign languages. But I am with two hands for helping a child to develop his intellectual abilities. If at school it is voluntary-compulsory, then in preschool age it is better to be guided by other principles.
For myself, I developed the following:
– never engage with the child if he is sick or tired;
– engage only when he wants it;
– they are not afraid to trust a child with a new, even complicated matter;
– not to turn an intellectual game into a science;
– Do not scold for mistakes and do not put ratings;
– but for success you can praise.
I will make a reservation right away, I did not pursue the goal of raising a genius, I just wanted to ease my daughter's subsequent school life, by teaching to reason, think logically and be attentive.
We play and develop

What you need to start to engage with the child? Right! Turn off your favorite TV show and get up from the couch. And now let's go!
To begin, learn a couple of games to attention. The best, oddly enough, this game … edible-inedible! The treacherous mother calls sweets, the child eats them with pleasure, and then … THE SOFA! The child reacted and did not eat it? Well done! And if you still got a sofa for lunch – there is a good reason to laugh together.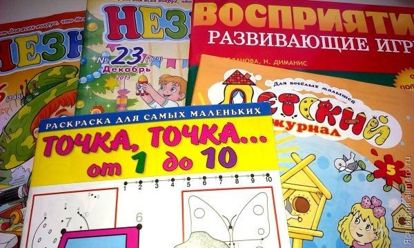 Another game that I like is called What's missing ?. It is very simple: put toys in a row, ask the child to remember, and then quietly remove one. This game is the prototype of the world-famous Memory, which, by the way, is recommended for all older mothers.
Attention trained, take up the logic! Here come to the aid of simple puzzles from children's magazines or textbooks, such as Logic.
Most popular among preschool children:
– assemble the whole from parts;
– find too much;
– draw the missing (continue the logical chain).
Even if you have not found such materials in your bins, there are plenty of them on the Internet!
Of course, you will reap the results of your work only at school. Based on my experience, I can say that what we learned to read before joining the class gave us an advantage even in solving mathematical problems. After all, while the other children read the condition, my daughter could already think through a solution. And thanks to logic, this decision is in most cases correct.
Attention, we continue to develop through the cards. And I am sincerely glad that my daughter has never lost a bag with a physical culture form or a mobile phone in the depths of the school.