I want to share with you my personal impressions of a wonderful developing toy, it will be about rug puzzle. Since there are two children in our family, friends try to give either the same toys or those that you can occupy both daughters at once. And so, on one of the holidays, the godparents presented us this amazing rug!
There is no doubt that any puzzle helps children to develop thinking, motility, imagination, imagination, but in addition to this – such a puzzle can be collected by the whole family on the floor, this is very exciting, family traditions, ability and desire to help each other are formed.
For example, I say – I have the right side of the carriage, who will find the left faster ?, – the children are trying, looking, in addition, such a game also brings up competitive and team spirit in them. In general – an interesting occupation for the whole family! Attract a husband, grandmothers, grandfathers – this is entertaining.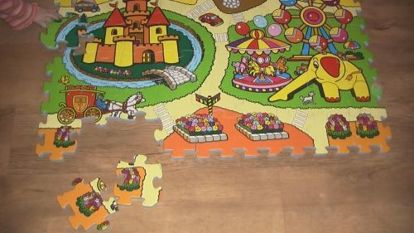 In addition to the main game in the formation of the picture, the younger daughter folds the tower out of the details, and the older one took the initiative and began to construct letters from the puzzle – she herself is interested, the girls also make a long path, on which we put up various obstacles We compete against anyone who can walk along this narrow path and not fall into an improvised sea.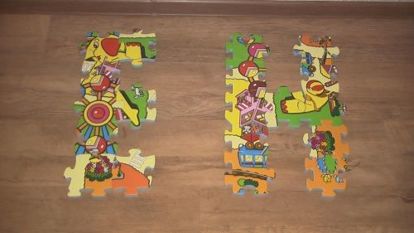 The possibilities are endless – you just need to dream! But besides this, such a puzzle – turns into an elegant rug! On which you can sit, play, look at pictures and compose fairy tales on them.