Our family loves to eat something sweet. After all, it is a pledge not only energy, but also a good mood.
I do not say that a child should be stuffed with chocolate or a cake with a cream, because dessert is not only sweet pastry, but also fruit.
Dessert kid up to a year
This, of course, puree or juice from fruits or vegetables, for example carrots or pumpkin. If you decide to make juice or puree yourself, then you should be confident in the quality of the products, i.e. they must be grown by you or proven grandmothers. And also do not forget to dilute these juices with water, at least 1: 1.
I had no such confidence, so I bought a canned mashed potatoes, which included fruit, but without the addition of sugar. Juices up to a year I tried not to give my son.
From about 7 months, we drank sugar-free compote. At first, I added only an apple, then I began to use dried fruits, raisins, pears, and only after a year I introduced red fruits, because there were allergic rashes.
1-3 year old desserts
It is after a year that babies have chewing teeth, so the amount of solid food in their diet is growing every day. Now you can give him whole fruits, as well as expand their range. It can be not only apples, pears, bananas, but also peaches, plums, apricots, unless of course the child has any contraindications.
You can give various berries, such as black and red currants, blueberries, and after 1.5 years, if there is no allergy, then give strawberries, citrus fruits and raspberries.
I still give my son a juice intended for baby food, on which the age is indicated, and I am going to give it as long as possible. I once watched a program about children's products, and so they said there that if the diet does not say the age from which it can be consumed, then this is a simple adult product only in bright colorful packaging.
Somewhere in a year and a half, I began to use sugar in my son's diet. Even at first I used fructose. Some doctors advise to give honey, but now we have not tried it in its pure form, only in the test.
And from sweet pastries we ate crackers, bagels and biscuits. But after two years, I began to buy him cones (sweet pastry), but later began to notice problems with the chair, probably due to the fact that the dough was butter. Therefore, I excluded the purchased buns and began to cook myself.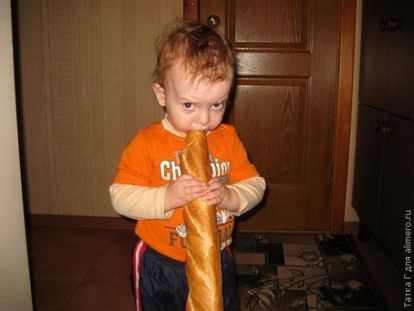 Our pediatrician said that baking on the basis of butter or margarine is not recommended for children under 3 years old. I began to give it only very recently. But at 2 years old, I made ordinary biscuits and cottage cheese casseroles with various fruit fillings (apples, peaches, cherries, bananas).
On the New Year, at the age of 2.5, the baby first tried Barney and chocolate. I did not want to give this delicacy so early, but it was at the Christmas party in the garden without my presence. We do not have allergies to chocolate, but after it, the range of products that were previously tasty for us was noticeably limited. Now he can not just give cookies with compote, and asks Kinder or Barney, but I have limitations, no more than 1-2 per week.
In general, the later your child gets to know the sweet, with the exception of fruit, the better. Since after it appetite decreases, and flavoring preferences change. What the son used to eat with pleasure, now he doesn't like it, turns up his nose because of a lot of food. Also, an excess of sugar contributes to an increase in body weight and the appearance of caries.