When the child is not walking yet and the only way to move him is with a stroller, everything is simple. But when the baby begins to walk and is actively interested in the surrounding world, problems arise.
Previously, I did not know about them, but recently there was an incident that made me take a different look at the walk.
Event on the playground
We walked with our daughter in the neighboring yard. There were a lot of kids of different ages. I was pleased with this fact, because a large number of people attract the attention of their daughter and, as a result, she demands less of it from me.
In general, everything was fine until the boys, aged 13-14, began to run actively throughout the site. Fascinated by their own game, they did not pay attention to others.
And so my daughter, unable to understand the danger yet, got into the thick of things. When one boy jumped on the slopes, and then on the horizontal bar, she climbed under his feet, and he knocked her down while rocking.
It makes no sense to blame the boy, he did not even notice when the baby managed to jump out. But the blow was so strong that the daughter was thrown a meter. She hit her head and back.
All this happened before my eyes, but because of the swiftness of what is happening, I was not even able to prevent such a turn of events.
Frankly, I was very scared. What to do in such cases? Moreover, after I took my daughter in my arms, she began to roll her eyes.
I will not frighten, everything ended without tragedies. My daughter quickly recovered. But once and for all I came to the conclusion: it is only necessary to walk with children, the same (at least approximately!) In age.
Are there safe walks?
On the one hand, you can protect your child as much as possible from any problems on walks, especially if you walk with all the time holding the handle.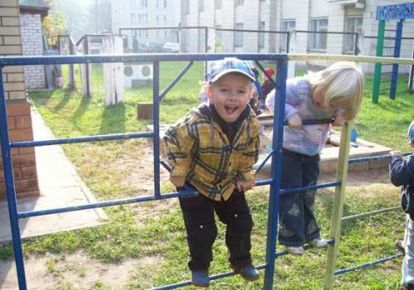 But on the other hand, to predict all situations is impossible. Probably not for nothing they say: fate. Someone falls from the ladder, gets up, shakes off and goes to play, and someone becomes a cripple for life.
So obviously dangerous situations should be avoided, but I think it is impossible to completely protect the child from them.
Did you have a situation when the walk became dangerous?