Recently, in the next visit of our Sunday dad, the child suddenly began to avoid him. The daughter did not want him to touch her at all. When they sat down at the table for dinner, she almost did not make a tantrum. This very behavior shocked me. But his reasons were childishly amazing.
It all started as usual
Dad came, we went outside for a walk. Daughter dragged him everywhere, demanded to carry her in her arms, but at the same time refused to be kissed. Although, she has been practicing for a long time and more of coquetry, so I was not surprised.
At home, while I was preparing dinner, they played well together. My daughter organized a puppet theater out of cardboard little animals and books, and they played great Teremok together. In general, nothing foreshadowed inadequate behavior.
And suddenly, when we sat down to lunch, it began. At first she did not sit down next to her father, as was usually the case. Then she became indignant that he was sitting too close to her. And when he wanted to help her chop food on a fork, he demanded not to touch anything and to take her hands away from her.
Dad, of course, looked at me with a dumb question. And I did not even know what to say to him. It was thought that I could hardly prove that I did not turn a child against him the whole week before his visit. Meanwhile, the child took the bowl from the table, put it on his stool and, as a poor relative, sat down to dine on the floor – so dad would not get it.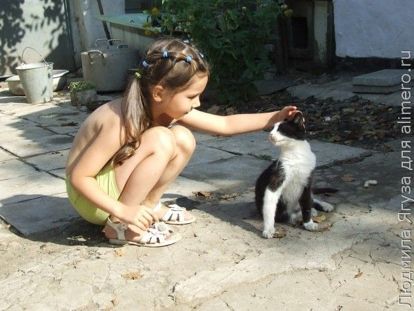 So what's the deal?!
After careful inquiries, the first reason for this behavior was voiced: Daddy is dirty! Dad was indignant: I wash every day! It turned out that he has dirty skin. For some reason, before her dark color of the child did not embarrass, but here just some kind of disaster!
They promised that Dad would not touch her, let him return to the table. All the same, she absolutely refused. Dirty skin is not everything. She is afraid that dad will rub his hair on her plate!
The fact is that while Dad lived with us, he always went with a short haircut. And then he wanted to make dreads, so he has been growing hair for the second year. Now they are not too long for him, but enough for a palm on top of his head. Haircut, to put it mildly, is not salon. I don't care, but the child, it turns out, is unpleasant and scary.
But that's not all. When dad went to wash the dishes, I tried to reason with the child, and she gave another scary argument: Mom, he has hairy hands! In general, she divided the father in tatters. She didn't even give her cup to wash: He will touch it!
I wonder why for six years my dad was normal, and then suddenly he was too hairy?