It's one thing when young (or not so) people sit on the playground and drink beer. Then they are simply asked to leave the territory – this is still a playground. And it is completely different when dad drinks beer while watching his child. This just can not expel.
What is the danger of the situation?
Somehow my friend complained. He walked with his daughter on the court and drank beer from the bag. That is, to understand what he sips there, it was possible, only by specially smelling it. But the people sniffed, pecked, and expelled from the site.
The main question I ask is when I see such conflicts, and what is the danger of such a situation for children on the site? The most terrible argument that moms give is the same example as an uncle gives to children!
But for my child the only authority is me, dad and next of kin. And then, if I condemn relatives for something, she will accept my position. Therefore, some uncle with beer is unlikely to have a serious impact on the moral character of my child.
Another question that he demonstrates to his child is the behavior pattern of a real man. Whatever daddy is, for his child he will always be an example to follow. But these are problems of a particular family. And they will not dare to put one in place in this particular situation. And why? Alien family, alien rules.
For example, in our school stadium in the evenings there are also a lot of children with their parents. And there are several families who spend every day every year on the benches with beer and cigarettes.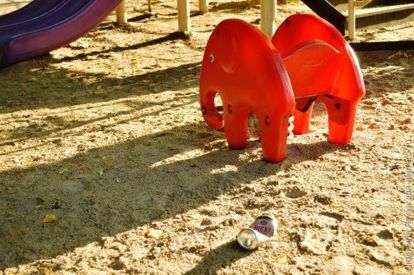 On weekends, they take more snacks and hang out there from about half a day into the deep evening. Children at this time ride around the stadium on scooters or bicycles. Sometimes they join their parents, have a snack on crackers, nuts, ice cream and juices.
Only janitors are outraged by the situation, and then quietly under his breath. Because on weekends they do not work, and tons of garbage and bottles are being raked on Monday morning. And what about the stadium inferior playground?
My position to the problem
I am absolutely calm about drinking dads. My child does not know what beer is. For her uncle just quenches thirst. And she certainly will not take an example from him – he is for her nobody in terms of authority.
Exceptions can be in two cases: when dad already does not knit a bast and when he behaves like a pig. A drunk uncle at the playground can really scare a child. Well, and when he litters here, this also should not be tolerated. In all other cases, I don't care about such dads.
And how do you feel about this phenomenon?