All babies are terribly creative individuals. And the creative potential opens in them, sometimes in the most unexpected way, where no one expected it.
And since all our children are great masters in their field, their actions also require an appropriate scope. If you really cook – so a feast for the whole world. Dance – so that the neighbors from the lower floor plaster. Build – so that all the doors in the cabinets tightly boarded up.
Artists

Take, for example, my daughter. She shows amazing abilities to the fine arts: original sense of color and not a lot of exposure. Because how to paint the walls in the room around the perimeter for a limited time (exactly as long as the evening tea party takes). This, you see, hard work.
The child was not punished, because the desire to carry the beautiful into the world must be encouraged (and aren't our children given to us for this?). Although, just in case, they promised to pick up the pencils next time.
My friend's daughter has the same old age who have recently distinguished themselves. The older – Dasha loves to play the doctor and the special white hat of her doctor serves as a special subject of her pride. Her younger sister thought that the headdress was unforgivably dull. At night (!), She pulled off her cap and mercilessly decorated it with various (not only medical subjects) drawings.
Most of all in this story is not lucky, as always, mom. The sisters have irreconcilable differences regarding art, and she inherited the thankless role of an arbitrator.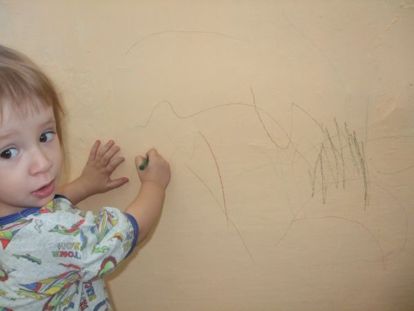 Fashion designers

However, my mom from a previous story was lucky more than mine once. I remember my favorite doll now. Only trouble: she did not have a beautiful dress. It was not – do it! The main thing is desire, and the material can be found anywhere. For example, in the closet with my mother's dresses.
Fortunately, there are many of them and they are all colorful. Unfortunately, a bag with pieces of fabric cut out of parental clothes was then taken away from me in a vain hope of saving a spoiled wardrobe. And after all from me the known fashion designer could turn out, and what accountant has turned out it is not known.
Chefs

Obviously, such unexpected creative impulses – this is our family one. Agree, the cook is no less creative profession than a musician or artist. And also requires privacy and concentration.
Perhaps that is why little Katya (my little daughter's cousin), when she decided to shake the world with an unprecedented culinary masterpiece, decided to experiment under the bed.
For a long time her mother could not understand where her condensed milk, cocoa, sugar, and others, irreplaceable in the preparation of something really worthwhile, went to.
Creative experiments of our kids sometimes cause a lot of trouble, and in some cases losses. However, it is they who give childhood such a unique charm.
Therefore, the next time when your baby has a little trouble, try first to look at it from the positive side – in 10 years this story will become a family legend. And then you can put in the corner =)