A few years ago I looked at the kits for creativity, which are designed for girls of preschool age. And now, at last, the time has come when my daughter and I are engaged in exactly girl activities.
Fortunately, the choice is huge now – from figure modeling to beadwork. And when we go with a friend and her daughter in a cafe, we often buy our girls the same sets, which they do separately from us.
Every child has their own preferences. For example, my baby does not like engravings and modeling. But it attracts other types of creativity, which I will tell you in today's topic.
Several times we bought different beads in a special store with a huge selection. There, the beads are sold by weight and you can purchase any quantity necessary for a particular product.
But recently a friend gave my daughter a special children's set in a beautiful package in the form of a pink box. In it there are beads of several shades of pink, very convenient for children's fingers. There are also two strong pink threads for making two beads.
Contrary to my expectations, this set turned out to be reusable. My daughter has repeatedly dismantled and collected beads, each time combining colors in different ways.
A year ago, the art of application for us was reduced to cutting out figures and gluing them on a sheet of paper. And just yesterday, my daughter independently made a postcard-appliqué of multicolored shiny sequins!
In the set there are 4 blanks for cards, which depict a diagram. On it, in accordance with the figures, it is necessary to apply PVA glue and then glue the sequin. It only took me to show the algorithm of actions on the example of several sequins, after which I did not see and did not hear the daughter of the hour 2.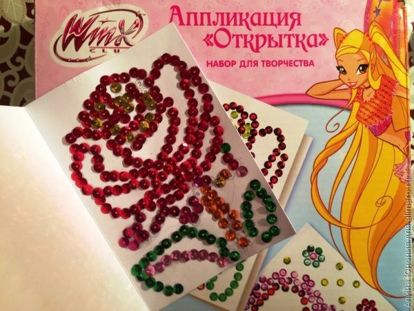 I admit honestly, we are engaged in this kind of creativity only on the instructions of a kindergarten teacher. Yes, and on children's birthdays, the daughter sometimes takes part in creative workshops.
This time, the proverb approached our creativity more than ever. We plowed – me and the tractor. Because time was running out, and I had to do the lion's share of the work. But for my daughter, too, there was an occupation – the separation of the film on double-sided tape, for example.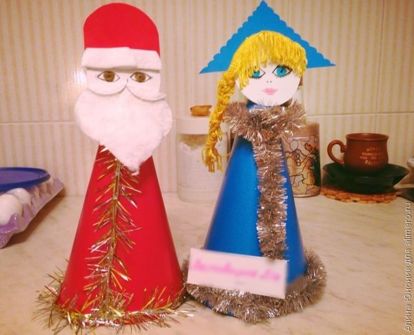 At preschool age, the child already consciously depicts the desired and goes without the help of adults. The daughter often asks to give her a task or draw a contour, which she paints and decorates (for example, the outline of Santa Claus or the Christmas tree).
This process can be diversified using different techniques and tools for drawing. When I was little, my mother chopped the pencil lead with a blade and I rubbed the resulting powder on paper with a cotton swab. Now you can buy a lot of interesting things. We liked glitter glue, wax crayons, creative stickers, stencils, etc.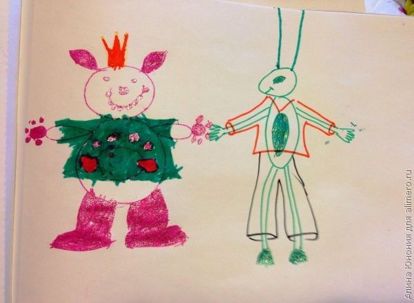 Ordinary clay, we are not particularly in high esteem, but some of its variants still have success. So, sometimes we make crafts from a special mass for modeling, which freezes in air for several hours.
But recently we sculpted Christmas-tree toys from dough. Then they must be baked at a low temperature, and then painted with acrylic paints. It turned out quite tolerably, I think.
Last year, kits for this type of creativity were given to a daughter in a kindergarten for St. Nicholas Day. And recently, interest in drawing with sand she showed up with a new force.
The essence of this method is to gently, using a toothpick, peel off small parts of an image from a picture, under which a sticky surface is hidden. Then you need to sprinkle the open area with sand of a certain color.
Recently, we were at the children's birthday party and the daughter gave the birthday boy a birthday card, which was made in this technique, he was delighted;)
Creativity is a wonderful and rewarding pastime for children of any age. The options that I have described above perfectly develop imagination, figurative and logical thinking, fine motor skills, creativity and other qualities.
What do your girls like to do? I am pleased to get acquainted with your experience and ideas!