As my aunt likes to say: I am a creative person: I want – I create, but I want – I get up! I bet that all our kids are such creative personalities! For whatever they take – be sure to get something done or created!
My daughter over the past year tried many types of creativity. It all started with body art, probably, like many other kids.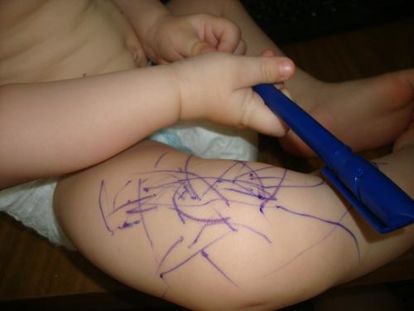 Yes, Anya did the first steps in bodypainting with a pen in her hands. All the pens were hiding in the house, but in some mysterious way she found them again and again. We tried our best to draw on the leaves, but the leaves were not perceived as absolutely material – only our own body!
We had nothing left but to fix it for history. Then came the turning point. We surrendered! And they decided instead of hard-to-remove pens to give the child finger paints. But just in case the album was also presented. And they did it right – now the daughter was drawing not only, and not so much on herself as in the album.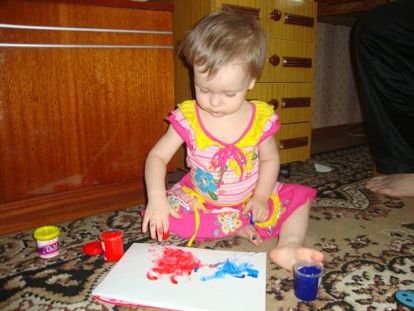 Over the past six months, the daughter has taken a huge step forward – and now her works painting flaunt exclusively in the album and exclusively brush. But the precautionary measures are simply colossal: a rag always lies nearby so that she can wipe her hands (now she doesn't like to dirty herself like horror) and the table is always covered with oilcloth or a newspaper.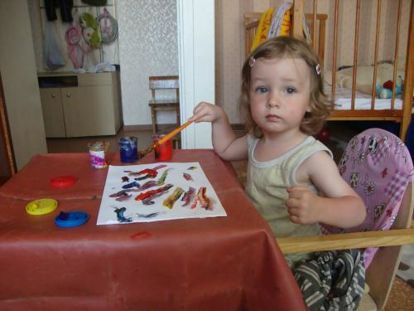 But even this does not save us from the washing of things stained in paints and a half-hour soaking in the pelvis.
The next type of creativity that my little girl has mastered is cooking Peeling eggs and squeezing them into a salad through an egg-cutter is only her privilege. Like trying chopped ingredients. And she fills salads herself.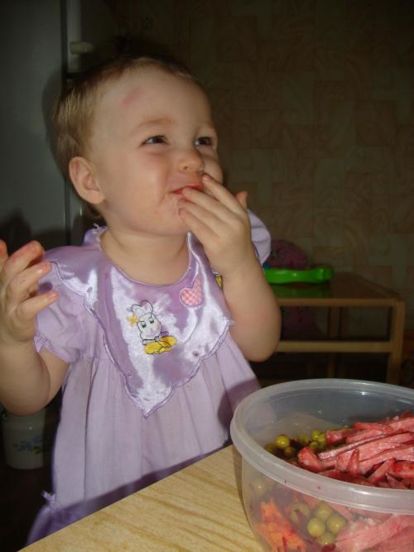 Creative nature manifested itself in one more – in the creation of a new kind of art: bodybuilding If you do not know what it is, I will explain: your children are the most virtuosic bodybuilders in the world. Who does not believe – here, look!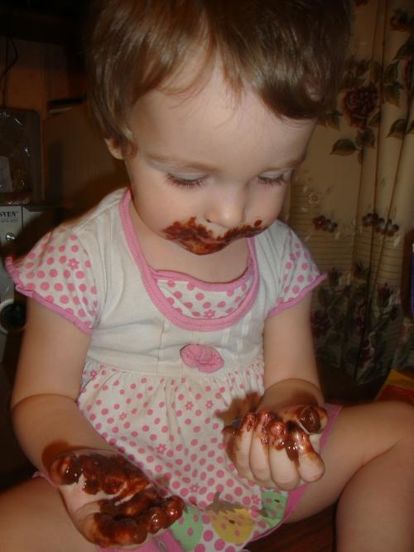 And then my daughter took up interior design. Together with us in the store I chose wallpaper in our new apartment, helped get rid of old ones, tagged, helped glue.


At the moment it is difficult to say in which types of creativity this little creative person tried himself – it is easier to say that we did not try. Hairdressing, embroidery, photography, application – this is far from an incomplete list of my daughter's creative skills by the age of two.
My main principle is to allow her to try everything, even if it seems that it is too early for her age. But on the other hand, I can calmly leave her to sort out the beads in the box, knowing that she will not shove them anywhere, because she understands what they are for.
And I also know for sure that she does not paint on wallpaper and knows how to handle a needle and scissors. And for what the iron – also knows. And I am calm, because I am sure that a story like this will not happen to her: a 6-year-old boy burned his hands with an iron at a visit to his grandmother, because he had never seen him – his mother stroked his clothes when he was asleep or in a child's room the garden. And, I think, in a year my daughter will start cutting up her favorite salads by herself.