My son is almost one and a half years old, and I try to engage in creative work with him as often as possible: to sculpt, draw, glue. I must say that my son really loves to do all these things and is ready to draw anything and everything around the clock.
On the eve of the international women's holiday (which, if I'm not mistaken, celebrated only in Russia), I decided to combine business with pleasure: to make postcards for our grandmothers with my son's hands.
We have previously determined the day of this feat (oddly enough, March 7) and prepared all the necessary materials:
-White paper
-paint (we have finger)
-weight for modeling
-molds
-tassel
-scissors
-palette
My child felt as if his day would be hard, so he woke up earlier than usual – at 6 in the morning.
The result of our work are 3 postcards. As I understood, the process is interesting for the child only when the masterpiece is created in stages, so as not to cause an overdose of art.
So, we started to create at about 7 am … and this is how and what we did.
I gave the young artist a brush – he knows better what to portray. I only had time to brush and offer new colors.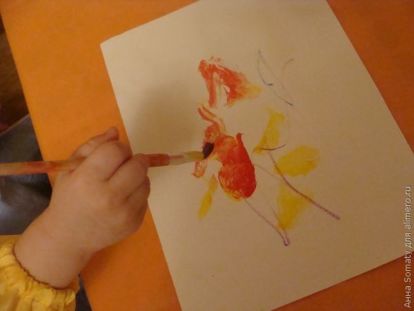 Here is what I got in the end:
While the drawing was drying out, and my son was eating an apple, I drew and cut a vase form out of paper.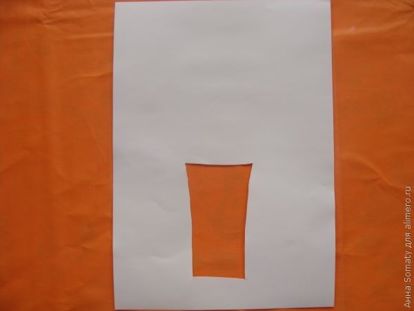 Then she put the form on the dried drawing and glued it. We have such a vase: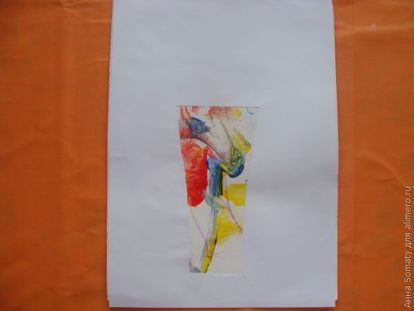 And now the most difficult, at least for me. We paint or stain the artist's pen with paint (with a brush, with a sponge) and leave traces on the future postcard – for the effect of colors.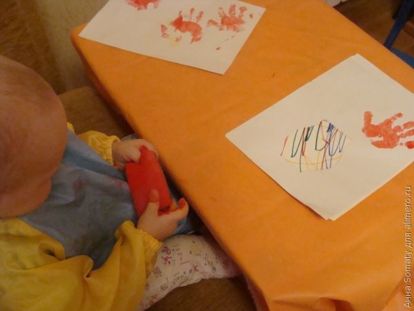 Then we had a break: the flowers needed to dry out, and the opposite was for the son to soak in the bath after active use of paint not only on paper, but also on herself, the sofa, the table … But every mother knows that not only beauty requires sacrifice … more and real art))))
After the flowers dried, with the help of the mass for modeling (or plasticine), we made leaves: I rolled up the balls and distributed them into a drawing, and my son crushed all these balls with his fingers.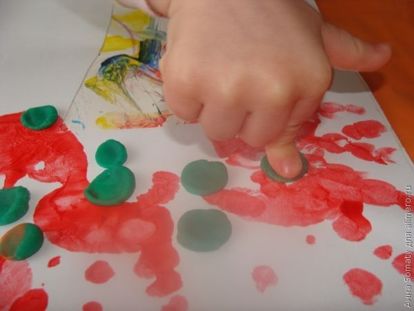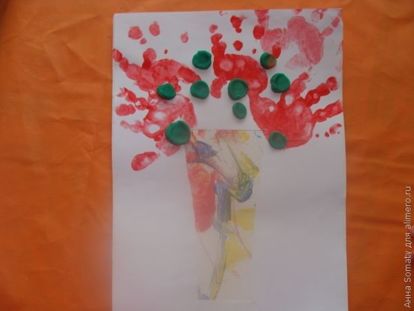 It remains for us only to revive our picture – to plant a butterfly on it, which we also made from the mass for modeling with the help of a mold.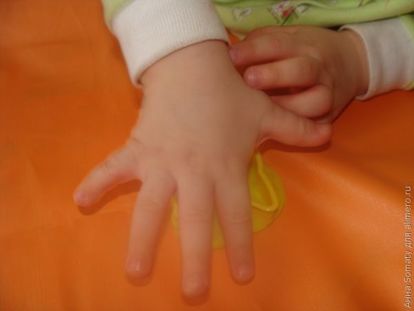 That's what happened.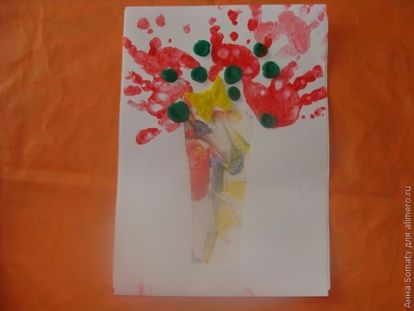 And not only this.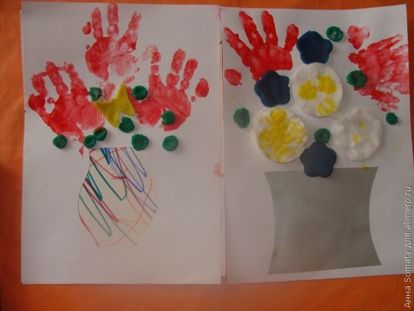 I hope that you will like our idea of ​​studying with a baby, because here several types of activities of the baby are involved: drawing, sculpting.
When we gave these cards to grannies – my son proudly stretched each one and showed in every way who the author is and who in our family is talented and well done)))
I wish you a pleasant stay with your little ones!