Surely many people bring from the summer vacation not only impressions, but also beautiful shells. And maybe not quite beautiful. Somehow there was a strong storm at sea, and we collected a whole package of shells and fragments from them. I absolutely do not want to take this magnificence home, so we immediately began to master crafts from such a kind of natural material.
Since my youngest daughter (she was 2.5 years old) helped me in creating crafts, they all turned out to be extremely simple, but they were made by my own hands. In addition to the shells, we used the means at hand, literally everything that came to hand. In general, look what happened.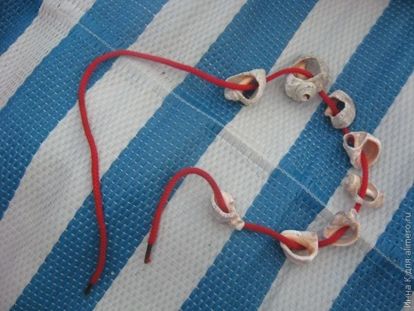 We started with shell fragments with holes. At first, I tried to throw them out of the bag, but my daughter insisted on their usefulness, and as a result we had such a development game. We take lace and shells with a hole. We ask the child to string them on a string. You can make a bracelet, necklace or just a rattle.
Game remember


From the next batch of seashells, we decided to make a game. We take flat shells and a sheet with stickers (Masha and I have nothing more interesting in the local store). Inside each put different stickers. Now we discuss with the child that we see him remember the location of the pictures.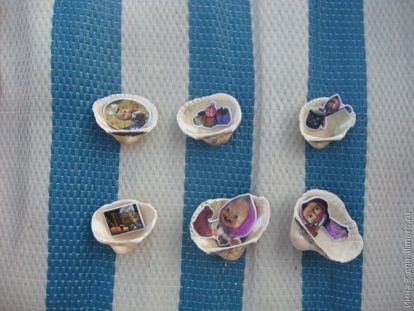 Turn over the shells so that the stickers are inside and ask the baby to show where the specific image is. He must remember where this sticker is hidden. It will be more interesting if the pictures are different animals, flowers, etc. But Masha went well with us. I am shocked at how good the memory of my little one is.
Butterflies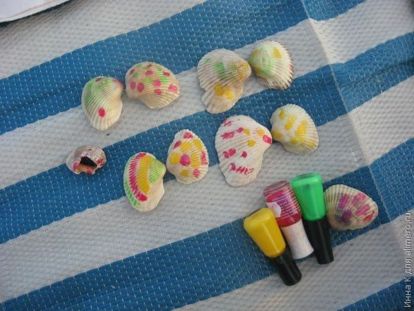 We take flat cockleshells and the fact that any woman has a nail polish at hand. The kid should paint the convex part in different colors. Now we make the shells back to the back and we get multicolored butterflies! You can glue them at home on a piece of cardboard using plasticine and draw little bodies to butterflies.
And we made this picture as a gift to my dear grandmother. These are two little octopus sisters. We outline the palms of the baby, cut and color them. We draw eyes, mouth, nose. Octopuses are ready. Now we draw the other inhabitants of the underwater world and paste everything onto cardboard. At the bottom we glue with the help of glue of the moment beautiful shells. The picture is ready. So that it does not bend on the weight of the shells, it is better to reinforce it with a second layer of cardboard.
From the shells you can come up with many interesting crafts. Try to make your own hands a beautiful box, pasted over with shells or stand for pencils. Some create whole pictures using this natural material. A little imagination and a little skill, and flowers or animals will appear from your shells from the shells. Good luck to you creativity!
And what kind of fakes from shells do you know?