The causes of night cough may be different. Some of them are eliminated fairly easily, while others require specific treatment and observation by a specialist.
This is a disease that occurs during inflammation of the upper respiratory tract (trachea). A characteristic symptom is the presence of night dry cough. Body temperature rarely rises, and only slightly (up to 38).
The cough is present during the day, in most cases on the exhale, but with the onset of night it intensifies. An accurate diagnosis is usually made by ENT or a pediatrician, and antibiotic therapy is often used during treatment. I wrote more about tracheitis in a separate topic.
This disease occurs when inflammation of the upper respiratory tract is not treated and falls below. Also usually there is an increase in temperature, coughing wet, wheezing.
There is a cough due to the fact that the bronchus is sputum, which in the supine position to cough up quite problematic. In this regard, it is not recommended to give expectorant drugs to sick children immediately before bedtime, and at least half an hour before the hour.
By the way, a common advice – hard to soar a coughing baby in the bathroom before going to bed – also does not always work in the right direction. Under the action of steam, the sputum swells, increases in volume, and in the supine position it is almost impossible to cough up, which can entail serious consequences.
Often, an insufficient level of humidity in the room is a cause of dry cough. Usually this is due to the increased work of heating devices in the cold season. For example, in our country in winter they drown the batteries so actively that during the night I drink a liter of water, and my daughter begins to cough in her sleep.
The problem is easily solved by maintaining the optimum level of humidity – it can be at least 50-70%. This can help humidifier, you can also use home-made methods – hang wet laundry indoors, put containers with water, ventilate the room more often.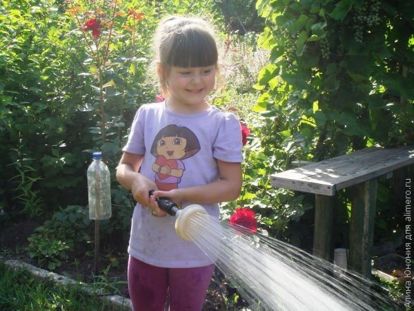 Allergies can also be a cause of coughing. For example, my girlfriend's daughter suddenly started coughing at night, the doctor did not diagnose any disease, the child was healthy. As it turned out, the reason was in the laundry detergent, which was used to wash bed linen – the substances included in its composition were the cause of the girl's cough.
In addition to detergents, allergies can cause anything – dust, flowers, air freshener, flowering trees outside the window, etc.
As you can see, the causes of night cough in children are many. It should be remembered that in any case you should not pay attention to coughing, because the child does not get a good rest at night, and the neglected disease is fraught with unpleasant consequences (for example, bronchitis can easily turn into pneumonia).