Now my son has begun to help me cook, and quite real. Although most recently he could hear from me the words Go play in the room or do not interfere, I will quickly cook.
Yesterday, in the topic, I already said that I had changed my behavior a little, and the number of prohibitions had noticeably decreased. So now, if Vanya wants to help do something, then he does it. I do not want to discourage the desire to help as a child, so that later I regret about it.
Of course, cooking with a child takes much longer. And utter chaos reigns around – dirty clothes, dirty hands, sprinkled flour on the table, etc. But seeing the happy eyes of your child, you realize that it's worth it.
So, let's begin!



Allowing your child to cook you kill several birds with one stone.
1) A good helper grows.
2) The baby feels grown up and fit.
3) Learns responsibility, as well as independence.
4) Learning to count. We have so mastered the score to 5 with a bang, and before that, the study of the books did not yield fruit. We now consider how much we need strawberries in a cake or eggs in an omelet.
5) What you cooked with your own hands is eaten with pleasure.
6) Develop a creative approach to cooking and serving food.
Before allowing my son to prepare a meal, I first introduced him to the rules of conduct in the kitchen.
1) You can not climb to the stove.
2) You can not take knives or other items, the purpose of which he does not know (blender, mixer), but you must first ask me, because Ignorance may cause injury.
3) Accustom to order, i.e. if he dropped something or scattered it, he should clean it up after himself, and I will help him in this.
Sandwiches and Snacks


You say that the baby is still small and can not cook anything himself. It is not true. We in 2 years already independently built sandwiches.
He himself laid cheese on bread, and decorated it with either a carrot or tomato. We also made with sausage and various vegetables, from which we constructed spouts and eyes. And he also likes to put bread in a toaster and fry. But then he won't go over with his hands, I pull myself out.
Another son gladly cleans eggs. Sometimes he is doing great, and sometimes he has to throw eggs on the floor. But nothing, but then how he eats these little yellow chickens and koloboks.


Soup


Before, my child ate everything without problems, especially he loved various vegetables. But when he went to the garden, the food there seemed to him much tastier than the home. The biggest problem was to feed him with soup.
The way out was the joint preparation of the first dish. I'm cutting, and he throws in the saucepan. And then he eats what he cooked himself.
Sweet Desserts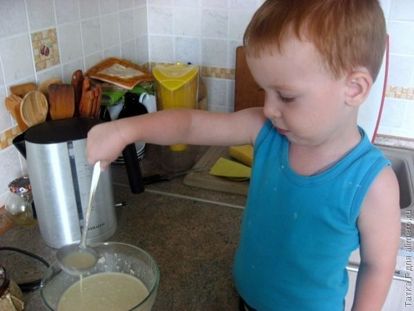 Even the laziest child will help me, because who does not like sweets. My son and I didn't do it together.
First, these were cupcakes. He with pleasure put in each of them a different stuffing. One with raisins, the other with dried apricots, the third with blueberries. And then he chose what he would try now.
And the other day, you will not believe it, but he himself made the dough for pancakes. I helped him only stir lumps.


findings
It seems to me that not only girls, but also sons need to be attached to housework. First, they will understand that this is not an easy job. And secondly, your future daughter-in-law will say thanks later! In general, with our advances in cooking, I will soon be uploading recipes for Alimero not from myself, but from a child.