Previously, in our family, a situation often arose when I wanted to pamper my husband and daughter with something delicious, and the child did not understand her mother's good intentions and was constantly underfoot. I tried to distract my daughters with toys or a TV, but it did not work. I started to get nervous and did not want to cook at all.
I thought, I thought, and found a wonderful way out: now my daughter and I are preparing delicious food for dad.
Combine, so to speak, pleasant with useful. What is the pleasantness of this action, I think everyone understands. But how is this useful?
Well, firstly, a joint interesting activity unites mother and child even more. Secondly, any cooking for a child is a game that is very useful for developing fine motor skills. And finally, thirdly, the variants of this game can be infinite.
It all depends on the rich imagination of mommy. For example, a child can cut with a knife (childish, of course!) Vegetables for soup, sort out cereals, wash fruits or berries for compote, sculpt dumplings or buns.
As an example, I would like to show how my daughter and I make baby cookies.
The recipe is very simple. So, we will need:
butter – 200 g
sugar – 200 g
sour cream – 300 g
flour – 600 g
soda – 1 tsp

The softened butter (although 200 g is indicated in the recipe, I usually take 100 g, otherwise the fatty biscuit is obtained) rub with sugar.
Add sour cream, soda and mix well.
Sift flour so that it is filled with oxygen. Mix with the rest of the mass.
Knead is not very cool dough. Wrap it in cellophane and put it in the fridge for 30 minutes.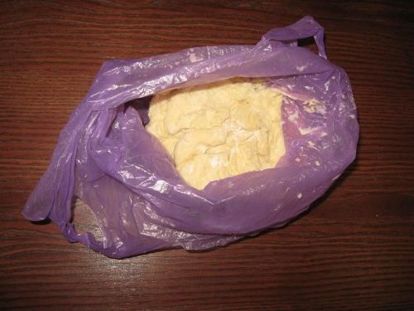 Sprinkle the table with flour and roll out the dough about 5 mm. thick You can sprinkle sugar on top, cinnamon – in general, what your soul desires.
Cut out different dough from the dough. We use molds for modeling of clay (previously washed), and when we get tired, we just make a glass. This is the longest stage: we cut the figures, crush the dough, re-roll and re-cut. It can last from 30 minutes to 1 hour.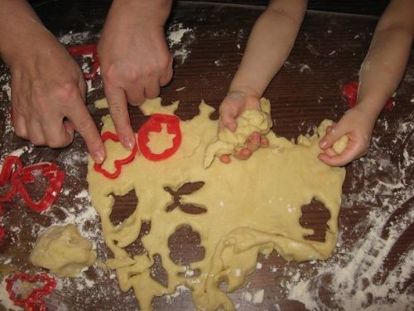 Grease a baking sheet with vegetable oil and spread cookies.
We put in the oven, preheated to 180 degrees. We bake about 20-25 minutes until they become golden in color. The main thing – do not overdry.
Done! Cookies get crumbly and fragrant. In general, yummy, as my daughter says.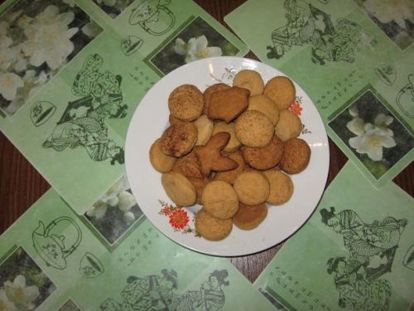 Then the daughter treats everyone with these cookies: both father and grandparents, who come to visit us from the next door. All praise little cook. A cook is so happy and proud. And sentencing: Ksyusha – well done. She baked cookies and fed everyone!
As you can imagine, taste is not important in our cookies. In this way I teach my daughter to work and independence. Through the game.