In order to work with your child at home, it is not necessary to buy expensive materials or purchase special benefits. Sometimes you can use what your mother has on hand, such as cotton wool, cotton pads or cotton buds. We often attract them to create interesting crafts.
Baby benefits
Vata is a very convenient material in order to create various applications. As you know, with the help of applications you can develop an artistic taste, imagination, and, in addition, fine motor skills of the hands of your child. In turn, this will positively affect the overall development and speech.
Pictures that we make with cotton wool and other materials based on it are unusual, voluminous and fluffy. You can create anything using cotton wool, everything depends primarily on the mother's fantasy. It could be snow, poplar fluff, clouds, a snowman, or even a swan.
What is required for classes
For classes, you can take cotton wool or cotton pads, cotton sticks are also useful. Still stock up with glue (PVA or pencil) or white acrylic paint, on it cotton is glued very well. We make applications on colored paper or colored cardboard, so interesting.
How classes are built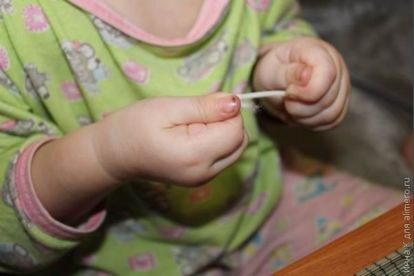 Usually I think through in advance what we will do with my children. But sometimes the decision comes during the application (as was the case with the swan). Often, my daughters make adjustments to the work, for children do not always get their plans exactly the way adults do, which is great!
In general, I talk to girls and explain in passing what we will create. For example, it will be snow. I tell (mostly, of course, the youngest, who is 2 years old, and not the oldest, which is 10), that a blizzard has flown and the wind has blown. At the same time I put glue dots or give my daughter's glue in my hands. And then it began to snow – I'm tearing off pieces of cotton and gluing it to paper.
Then you can develop a thought and stick snowmen from cotton wool or stick three cotton disks that will depict snow people.
In conclusion, I would like to tell you about a couple of our wadding articles.
Lamb of cotton swabs. Tear off the cotton sticks and glue on the workpiece. We decorate the sheep at their discretion. And also our leg of sushi sticks, like this!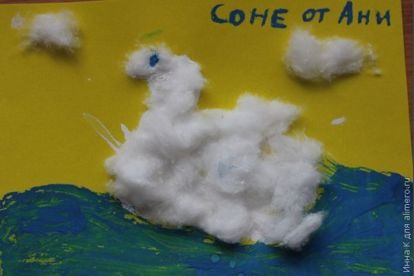 Swan. It turned out, as I wrote, by accident. We worked with acrylic white paint, did a hand drawing. That is, I smeared the palm of the child, and she left a mark. We thought that the imprint looked like a swan and pasted cotton on it. Gave an older sister on the DR.

Do you use cotton wool in developmental activities with a baby?