Already that day I have been walking in an incredibly joyful and elated mood and today I will be happy to tell you about what caused it.
Very important news.
At the end of last week, namely on Thursday, my eldest daughter calls me to work and decisively declares: Mom, I have very important news for you. I confess I was immediately taken aback – too early, it seems to be like, even for important news.
It turns out that on the way home she somewhere saw an advertisement about the fact that on Saturday in one of the city parks the local authorities were organizing a competition-exhibition of bird feeders. And the child didn't even have an idea that we could not take part in it.
So, on Thursday evening, between solving math problems and creating sound-letter schemes for the words written in the text, she was actively planning Saturday morning so as not to forget anything … But the absence of that feeder somehow didn't bother her at all … And we husband, I confess, they thought – it will cost, will be forgotten.
But this was not the case – the next morning, the child, not having time to open his eyes, immediately started talking about the feeder.
Need something to solve.
In general, our dad was puzzled. The problem was not so much in skills (he was an expert for feeders), as in his spare time – a whole day at work, and for the evening he had already planned an important meeting for a long time.
But he managed. I still do not know when and how, but in the evening the feeding trough was ready for the girls and me. Now it was up to us – it had to be decorated somehow.
Everything that was at hand went to the course – paints, glue, natural materials, burlap, viburnum, dried flowers, etc. We tried everything and that's what we did.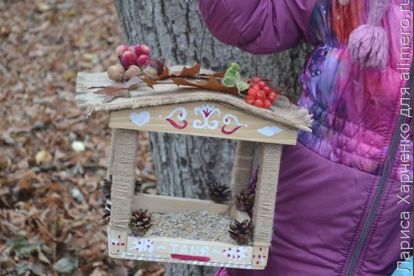 This is a holiday.
So, morning, Saturday. At 10.00 – registration of participants. At 11.00 – the beginning of the competition. We are on the spot.
I don't know, of course, what I expected to see, but definitely not so many people, children, feeders, etc. The troughs were hung along the entire length of the central alley, and on both sides.
The presented works are the most different: very beautiful and original! Looking at this diversity, I immediately started telling my daughter how great it was that we decided to participate, that it would be very difficult for the jury to choose the winner, since there are a lot of good and interesting works.

But Dasha was so determined to win and was worried that she didn't even want to play and have fun with the rest of the children – a whole party was organized for the kids there with competitions, discos and prizes while the jury worked.
In general, it seemed like an eternity, while out of two hundred feeders, 25 winning works were selected. There were a lot of different nominations, and our feeder won one of them! Imagine. Among such a number of works, we noticed our labors and efforts.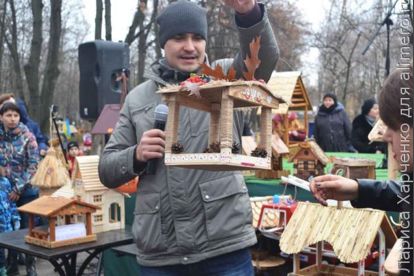 How happy and happy were my girls. As for them, my husband and I were happy and proud. Our enthusiasm did not go unnoticed, and local television immediately decided to interview the girls … And last night after the release of city news, we proudly accepted congratulations on the victory and the TV debut from relatives and friends!
The organizers of the competition urged not to take the feeders, but to leave them so that they hung all winter in parks, squares and alleys, and also encouraged the children not to forget to come and feed the birds. So the next day we went back to the park, we had a lot of wheat and seeds in store — unfortunately we did not find our nursery, but we fed all the birds!
So unexpectedly and unexpectedly, our Daryushka organized the whole family and gave us all a bunch of pleasant emotions and impressions!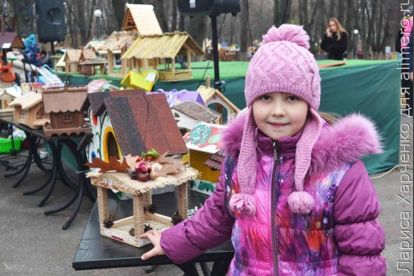 True, it's great.