Once again I hear advice from outsiders to give my daughter to dance, not to karate. Like, she's a girl, there she will learn femininity. Karate will make her a girl, because she is already too agile child. And it surprises me how people can give me advice without knowing my child at all.
Familiar cliches
I distort from the worn out clichés that are used without even thinking about what they say. Girls have to be feminine – it means that we give them to the dances so that they can do it from them. Well, they took no responsibility for educating this side of the girl's personality and put it on the dance teacher.
But femininity in a child, especially a preschooler, is brought up, in my opinion, only by personal example. Children, after all, always strive to be like parents. And if the mother tries in every way to emphasize her femininity, then the daughter will strive to be the same, to learn to be a woman.
No dancing will teach her that. Dancing is just one of the ways to manifest the feminine in yourself. One of! And not at all mandatory.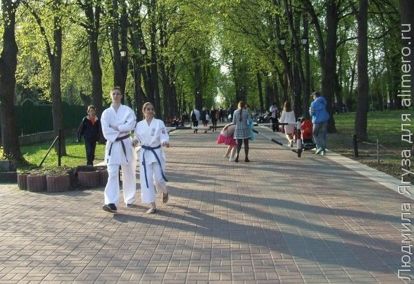 Basis of choice
The second aspect is the basis for choosing a group and activities for the child. I think the main problem of adults is that we want to give the child what we consider necessary. And at the same time do not listen to him at all.
While choosing a hobby for yourself, for example, listen to your heart, rather than being guided by reason. None of the adults will go to the dance to increase their femininity, if he does not get any pleasure from these dances.
Therefore, deciding where to give my daughter, I appreciate her as a whole. Not only her wishes, but also her temperament, her need for movement, and so on. I myself went to dance and martial arts in my own time, so I can appreciate what some classes give and what others give.
My daughter just needs to accumulate a certain number of meters in a day. Taking her out of the kindergarten, sometimes you have to wait for her to run a couple of laps around the building. On the playground, she needs not only to run, but also to scream well.
And I know for sure that it is not possible to absorb such amount of energy. And martial arts classes – they can. Yes, if my daughter's enthusiasm is enough, and I will be financially able to draw more dances, let them do it too. But karate is still a priority.
In addition, her mother's example is before her. Mom goes to workouts, not to dance. Somehow I had to take her with me. On the threshold in the hall the daughter gives out the phrase: Mom! It smells like a workout! I like.
Therefore, I still for karate for my daughter. Especially because she really likes to train.
Where are you giving your daughters?