Do you need vitamins at all? This question is on TV and on the Internet for years. But for myself and my children, I decided that we need them! Reasons: disgusting ecology (consequences of the Chernobyl disaster), a small amount of fresh fruits and vegetables (brought from hot countries, processed and stored for months I do not take into account) and bad weather, which provokes endless cold. My conclusion: drink vitamins!
Have you ever asked your pediatrician what vitamins will he advise your child? And do not ask! It is unlikely that he will have an answer to this question, unless, of course, he is a distributor. In order to find your vitamins, you need to pass tests and carefully understand them! Therefore, a pediatrician, at best, will advise those that are more expensive, and at worst wipe away. This is not a disease to be treated!
So, where to start the search for the cherished box? Examine the composition? Price tag? No, your child! My eldest daughter has frequent colds, moreover, recently, I began to worry about her eyesight. So, the eldest needs a multivitamin complex containing vitamins C and A. The younger one has poor appetite and sleep, she would have vitamin C and B1. So, monovitamins are not my case, we need a multivitamin complex.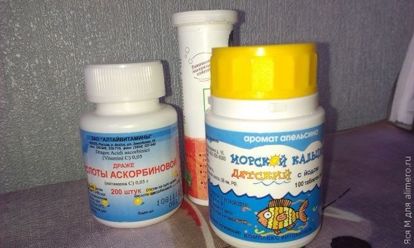 Dietary supplements or vitamins
When I arrived at the pharmacy, I was amazed that on almost every package, which I had previously considered a vitamin complex, BAA was written! The tired pharmacist hastened to assure me that this is the same thing. But somehow I began to doubt.
Someone agitates to buy only dietary supplements, as they are based on natural substances, not at all like synthesized vitamins. Someone is their ardent opponent, since clinical trials of dietary supplements have never been conducted. Having thought about it, I decided that I was not yet ready to buy the dietary supplement.
I, as an economical mother, decided to buy vitamins that are the same for the older (7 years) and younger (2 years). But it was not there! It turns out that vitamins are also divided by age! They differ not only in the inscription on the package, but also in the amount of beneficial substances contained. In addition, the most convenient dosage was worked out for each age: drops for completely crumbs, syrups for children from two years old, chewable syrups for three years and older …
In the end, I chose the pops of the Belarusian company Malkut – Vitus Fortress for the elder and Vitus Krokha for the younger, each of the jars (20 vitamins) cost me about 3 cu. At the same time, they captured the ascorbic acid known since childhood, produced by Altaivitamin CJSC (cost less than a dollar) and Ekomir (around 3 $) of marine calcium for children. In general, $ 10 for vitamins for two children, in my opinion, budget!