I think for every child snow is a real genuine joy. And, probably, it is the children who carry the feeling of a fairy tale, a miracle, a holiday. I remember the first question my son asked when he saw the snow was Mom, and when did Santa Claus come ?.

Baby and snow

But winter does not always have to miracle and holiday. Our problems began from the moment when the son saw some mommy in kindergarten pick up his child and sit him on a sled. A logical question. And why didn't you bring me a sledge ?.
I didn't bring it because the sledge lay quietly in the attic of my grandmother's house all season long. I did not bother to pick them up. This is the first. The second – I live in an apartment – I do not have an attic (like a storeroom). There is only a balcony, on which there are already a lot of things the hostess of the apartment and my bicycle (summer means of transportation from the house to the garden).
Plus, I do not see much sense in hauling a sledge through half the city in order to push them onto the balcony. We have nowhere to go for a ride – there is a shop under the very windows, everywhere traveled highways, parking, then a platform with a fountain laid with tiles. Snow is cleaned there every morning (by the way, waking up at five o'clock in the morning from the nasty sound of a shovel's contact with a tile is still a pleasure).
A ride on a sleigh to kindergarten is very far. On foot, such a walk takes about forty minutes, or even an entire hour (depending on the speed of walking and haste).
And, of course, the immediate absence of snow. The first snow fell about three weeks ago. But it was so small and somehow dry that it instantly mixed with the ground and turned into a creepy gray mess. And a sleigh with a child, in which twenty kilograms have already been gathered, cannot be dragged along the sand. A similar experience was – the grandmother decided to meet us with a sled – the two could barely be dragged to the yard.
And recently the snow has melted altogether – only today a terrible combination of snow and rain fell on the earth tonight. In general, the weather for the sleigh is not ah.
But if this question was somehow solved by the child (only an oath assurance that I'll definitely bring the sledge, as soon as there is a lot of snow on the street), then the tantrums on the playground are going on.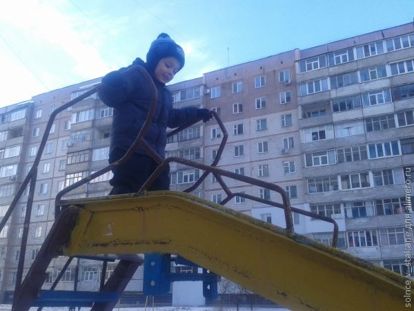 Well, you can not prove to a child that he sits on a swing or ride a hill for a long time. How can you, if he is hot, he runs, his cheeks are red, and the awl in the priest and itching? Every time you have to literally force him away from the playground. And talking about getting a cold and going for a walk will not help us anyway.
Tell me how to deal with it? Maybe there is some method of persuasion (preferably, not by personal example)?