My son is partial to water. He is ready to do water procedures almost 24 hours a day. Bath or douche under the shower for him daily procedures. Recently, it is also extremely necessary to wash off all traces of his creativity from a child.
In this regard, we tried a lot of various children's bathing and washing products. But our last acquisition – Eagle Nyan shower gel with peach and grapefruit extracts – impressed me personally.

Description
This product is sold in absolutely standard for this series of packaging – 250 ml yellow bottle. Its price is 75 rubles. On the face of the bottle it is written that the gel contains extracts of grapefruit and peach. It bribed me in the store. Wanting to smell, I opened the lid and felt a very pleasant fruity aroma. And then simply could not resist the purchase.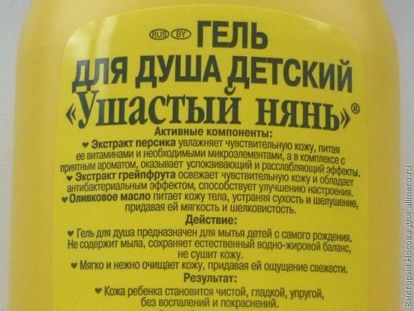 On the reverse side of the package there is information about the beneficial properties of the product. According to her gel:
– hypoallergenic
– nourishes the skin of babies with vitamins and trace elements
– has an antibacterial effect,
– soothes
– relaxes
– improves mood
I was also pleased with the presence of olive oil in the gel. True, it also contains components whose usefulness I doubt. But, apparently, without them in any way.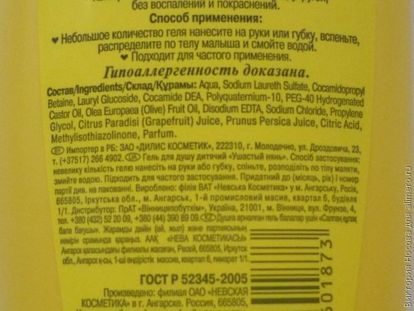 Impressions of use
Unfortunately, I cannot draw any conclusions about the changes in my son's mood after using this super-tool. He always perceives any hint of swimming with great enthusiasm. But otherwise this tool I liked at 100%.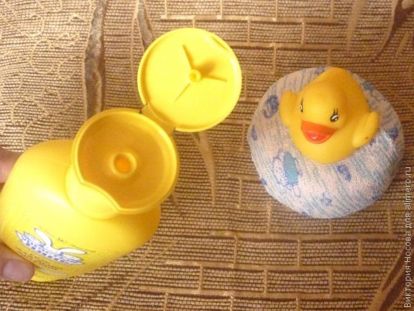 I always meticulously treat the packaging itself, more precisely, the convenience of its use. So, this bottle fits perfectly in the palm of your hand. I have no difficulty when trying to open its lid (and, moreover, with the same hand). However, at the same time, the cap itself closes the bottle quite tightly, preventing the flow of the gel.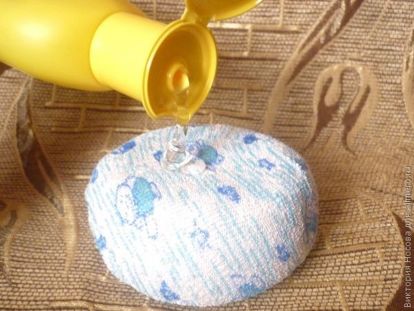 Means transparent, perfectly foams both on a sponge, and in water. Consumed very sparingly. With it, I can easily wash the works of art from the body of a child and prepare for him lush foam baths. By the way, the aroma during bathing is even more pleasant than from a bottle.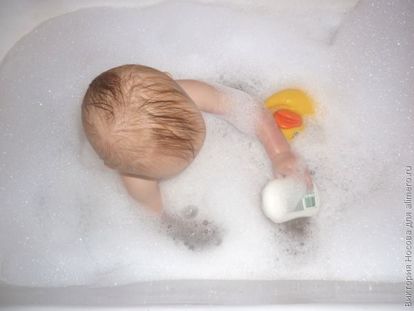 The gel does not contain soap and dyes, does not sting the eyes. It moisturizes the baby's skin quite well. Previously, after each swim, I had to put cream or milk on my son's body, otherwise the skin would become rough. Now we easily do without it.
I'm sure this tool will settle in our bathroom for a long time. And after the end of this bottle, I will definitely replace it with a similar one.
And what is the decisive factor for you when choosing bath products for children?