For shower gels, I am completely indifferent. Before the advent of my daughter, I could buy the first one that would fall under the arm, or use soap. For the past few years, I usually use products that have bothered my daughter, from Sanosan to Winnie the Pooh bottles.
And so, recently in a supermarket, I noticed a bright pink container with an image of a princess and a Little Pony (exactly what my daughter is playing for now). Automatically took it to look and smell, and … fell in love with the scent. Having breathed enough and thinking that it would be necessary to first use the old means, and then buy new ones, I left the store without buying.
And, do not believe it, for several days I now and then returned thoughts to that fragrance. And, hiding behind the fact that my daughter loves little ponies, I finally could not stand it and did not go, but ran for a fragrant shower gel.
Information on the packaging is standard, like in many children's products. The manufacturer reports that with the Princess it has now become doubly interesting, as the charming Ponies have joined her.
Soft remedy should make the skin of young princesses (and their parents;) smooth and velvety, give a sunny mood, freshness and tenderness.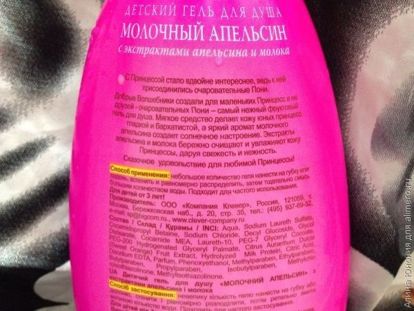 With this shower gel, I'm ready to wash around the clock. The daughter is also in awe of the images of horses and the flavor. I would like to describe the smell to you, but I fear it will not work. It's a cross between orange, grapefruit, vanilla, sun, baked milk and white chocolate.
The consistency is not less pleasant and very delicate, the product foams well, is easily washed off and leaves a delicate fragrance on the skin that envelops for half an hour. After the shower there is an incredible feeling of cheerfulness, freshness and fullness of energy.
The gel moisturizes the skin a little. However, if it is not so important for a child, then personally I can not do without using moisturizing cream after a shower. After this product, I began to apply body lotion not 2-3, but once a day.
The packaging is quite comfortable, although there is no dispenser, but the lid opens and closes easily with one hand, which is important when washing your baby.

The capacity of the bottle is rather big – 450ml, the cost is quite attractive – about 120r. (27 UAH). Means for sale in many supermarkets and cosmetic stores. Manufacturer – Company Klever LLC (Russia, Moscow).
Age category – from for children from three years and their parents. In the composition, as promised by the manufacturer, there are orange extract and milk protein. Not without the Sodium Laureth Sulfate, where do without him.
Perhaps the fragrance means an amateur, but apparently it was I who turned out to be it. Even just going to wash my hands in the bathroom, I can not help but sniff this magic shower gel.
The daughter washes them with pleasure and then constantly comes up to me and asks her to smell in order to inhale the amazing aroma. And the images of Princess and Little Pony increase the desire to wash more often.
I know that some adult shower gels have a similar smell – Nivea, Jonson Jonson, etc. But it cannot be compared with my favorite Milk Orange from Clover Company.
And you have a crucial smell of shower gel?