In the spring, when the first rays of the sun awaken from winter sleep, you begin to notice around not only the first signs of spring, but also many couples in love.
It must be admitted that in addition to adult love, there is also children's love, which occurs even at preschool or primary school age. Many parents are ironic, some try to understand children's feelings. And how to respond to the romantic hobbies of a son or daughter?
Love for all ages
Working as a kindergarten teacher and watching the children for several years, I came to the conclusion that the feelings of the children are very real and sincere. And despite the fact that many adults refuse to believe in it, our children fall in love and learn to build relationships with the opposite sex at preschool age.
Four-year-old Nastya could not get used to the kindergarten for a very long time and every morning began to cry as soon as her mother left her. The situation changed dramatically when the five-year-old Maxim drew attention to her and took her under his patronage.
In the morning he warmly met the girl, took her hand and led her to the group. Maxim was a real defender and did not give Nastya a grudge. And she, like a tail, followed him all day. But the next year, Maxim went to school, he had new friends and new interests.
But Nastya just felt sad every day, remembered and waited for him to visit … I know many such stories and I can tell them endlessly. Yes, and each of us, I think, will be able to remember our own love story, which occurred in kindergarten and elementary school.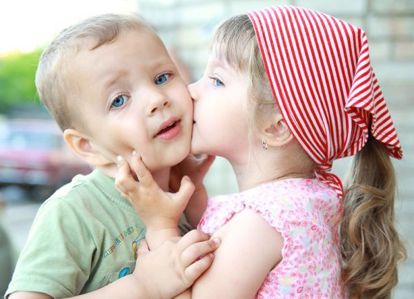 Young Romeo and Juliet can become victims of Cupid already in the younger group of kindergarten. But, according to psychologists, first love, as a rule, overtakes babies at 5 years of age. And the girls begin to show sympathy much earlier than the boys.
Child love: life or play?
The feelings of children are cleaner and much more vulnerable than the feelings of adults. What footprint they will leave in the child's soul depends largely on their parents. Any ridicule of adults can cause great emotional trauma and even kill the desire to love.
Of course, looking at young lovers who recently walked under the table on foot, it is difficult to keep a smile. But any conversations with children should be very delicate. Laughing and teasing children's hobbies is ridiculing the most intimate feelings.


Sometimes the first love can cause parents and a stronger negative, which is condemnation or outright prohibitions. But how can you ban or make love? You can only teach your child to hide his feelings and not to trust his parents.
What could be wrong with this innocent love, which is expressed only in words, attitudes, the ability to listen, come to the rescue or cheer up each other?
The first child's love does not indicate some kind of moral licentiousness, but that the child has a good relationship with peers and he shows a healthy interest in the world of adults, from which this love was taken.
The motive of imitation in preschool age plays a significant role in the development of the child. Children copy the behavior of adults, including their marital relationships. The experience gained in the family will surely reflect on their own adult life.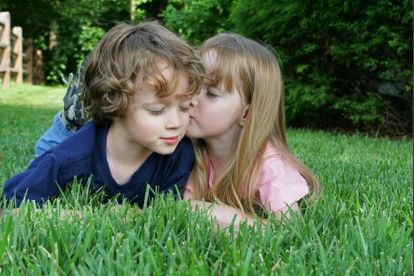 Love is very serious!
Betrayal or impermanence in children's love can become a real tragedy for a child, bringing quite childish suffering. Having no life experience, it is quite difficult for a child to cope with the problem on his own. He needs attention, the right advice of adults.
In this case, you should refrain from saying: Do not worry! You have these Light you know how much more will be. . Such words can not only program the child's later life, but also instill in them a frivolous attitude towards deep feeling.
By bringing a child closer to you at preschool age, you can save him from serious mistakes in the future. And this can be done only through understanding, trust, and willingness to listen. There is nothing more dangerous than haste, inappropriate jokes or condescending moralizing.