As I already mentioned, my daughter passed on to the age of special veneration for princesses. She also considers herself a princess, dresses up in dresses and wears beads. Such a girl should also be surrounded by beautiful things.
So the bottle with children's liquid soap and the image of the princess on it was bought in the store. I also want to tell about this cosmetic product in more detail.
Packaging and cost
First of all, we pay attention to the packaging. Here she is just wonderful. Convenient dispenser: one press and the right amount of soap in your hand. No need to worry that the child will pour out too much or that he will not be able to get the lathering substance at all.
The volume is large – 490 ml. For such a large package of soap, I paid about 20 UAH. or 80 rubles. You can buy it in any cosmetic store, where the company's products Clover.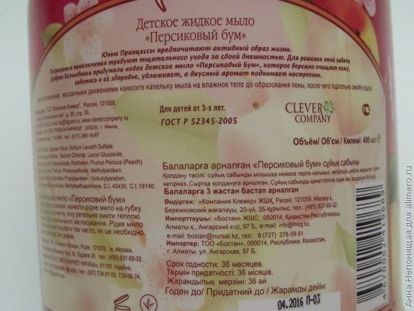 I have no big complaints about hand soap, so I honestly did not pay attention to the composition until the writing of the topic. On closer examination, of course, it turns out that it is completely chemical and there is nothing useful, or at least organic.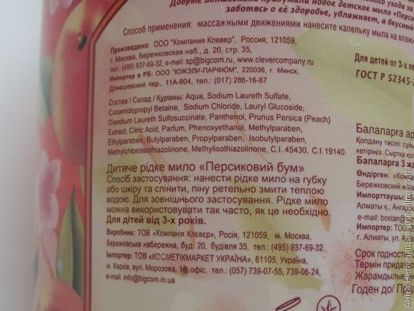 Our impressions of use
Soap it with the smell of peach, as indicated on the package. And indeed, as soon as you wash your hands, the insanely pleasant aroma of peach spreads along the bathroom and even along the corridor. The smell is very tasty, juicy. Because of him, I want to wash my hands endlessly. He soaps well, copes with any pollution with a bang.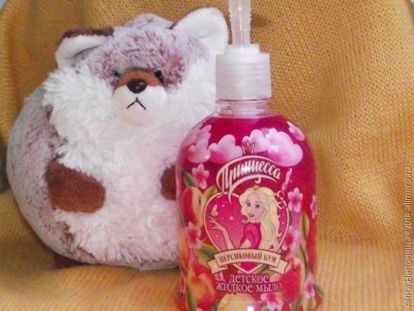 If your child refuses to wash their hands, then the soap with the image of your favorite hero on the bottle is really the way out. The combination of price and quality – just beautiful, the aroma is very tasty, washes away the dirt perfectly. I have no more requirements for soap for hands, therefore, I give him a solid top five and I can recommend for purchase to all lovers of princesses.
What hand soap do you use?