Summer is a great time when you can spend almost the whole day on the street. I am very lucky that my son's birthday is in July. I do not need cafes and playgrounds in the rooms, because it is very stuffy there, and you don't have to think about where to celebrate. We spend this holiday in nature, in the fresh air.
Where to celebrate?


I will tell from my own experience that my friends and I tried different places to celebrate children's holidays.
This is the cheapest option. We have it almost within the city, so all the guests get there themselves.
This option is also from the budget. Usually we come to the forest for holidays in May or September, when it is already cool. At this time, children can not swim in a lake or river, but you can enjoy the beautiful air and delicious barbecue in nature.
For this option, we found the most appropriate way out. We drive 2-3 cars to the fenced territory of one of the lakes or hire a minibus that takes us and waits there all this time. Entry to the territory is paid (20 hryvnia or 80 rubles per person). But at the same time there is the cleanest beach and water, a children's complex and carousels, as well as water slides.
Children there do not need to invent a lot of games or contests, because they are busy with rides.
4) Private gazebos.
I think every city has a cafe or gazebos that can be rented. Last year we celebrated the birthday of our son there. We have a former airport, which has now made good places for various kinds of holidays.
There is no kitchen and you can not make an order for food. Just take off the gazebo for a certain time. The cost for 2 hours – 100 hryvnia (400 rubles). We rented for 5 hours, enough with his head. For each gazebo there is a brazier where you can make a wonderful kebab.


Preparation for the holiday
Gathering in nature, I always consider the fact that children are traveling with us. Therefore, accessories must be 3-4 times more than for adults. It's best to prepare a plan in your head for what you need to do:
1) Decide on the number of guests. Find out eating habits for adults and children (to find out if a child has an allergy to something, maybe there are certain products for him).
2) Think over the holiday script. We rarely get on the script, but half of the planned events are successful.
3) Consider the transport on which guests will travel for the holiday.
4) If the weather is bad, is it possible somewhere to shelter from the rain or drastically change all plans.
5) Consider the things you need to take with you (camera, mosquito repellent, portable tables and chairs, etc.).
Holiday in nature
On arrival at the place, children usually go to the clearing to run and play. Believe me, they do it with pleasure. Especially those who live in city apartments and they have no grandmothers in the village. And all adults help us: cut salads, cheese, sausage and various rolls.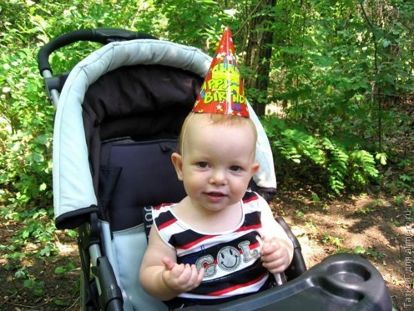 Then everyone sits at the holiday table. After that, kids can send a little more frolic, but for now prepare contests. My son really likes contests for speed or agility. But our girlfriends prefer creative competitions (poems, songs or dances).
After the competitions, we always give prizes (winners and losers). These can be medals and sweet prizes. It doesn't matter that only one of them has a holiday, the others will be very pleased.
findings


Summer is so transient. Use it, spend as much time as possible in the fresh air. Children love different contests and entertainment in an open, unlimited space. After active games, they have a great mood and a great appetite.
Good company and happy children's holidays!