I first encountered the concept of childish greed when my son was about 1.8-2 years old. Prior to that, he always gave his toys to children in the sandbox, for him it was not a problem. Moreover, he did not even look at who played them and where they were taken.


Greed or possessiveness
But then he stopped sharing with everyone. Moreover, he neatly lays out all the toys from the package in the sandbox, and they lie there quietly, and he takes the toys from other children. But if they take him, he immediately protests, and if possible, he can charge him in the forehead with a shovel. It started to bother me. I didn't know what to do or how to react. Let him defend his own or should he stop his behavior?
I have one good friend, she is a psychologist. So when we called up with her, I asked a question that interested me. To which she told me that at this age the concept I and mine is formed. I thought, and really, my son used to talk about himself in the third person. So, she said that his personality was being formed. And when someone takes his toys or hugs his mom, it is like an invasion of his space.
At such a small age, the term greedy child does not apply to him, it is just important for him that his things do not touch if he does not allow it. Similarly, he perfectly understands that things are strangers, and therefore must be taught to ask permission if he takes something.


Can or should?



Now I want to tell one case that happened not so long ago on a walk. I slightly changed my position of seeing the situation, again after talking with a psychologist friend.
Here is the situation, we come to the playground, Vanya lays out toys. Sits and plays in the sand, and then runs to ride on a swing. At this time, Vova takes his toys and begins to dig with them. The son, having seen it, rushes back and selects toys.
How would I have responded before? To be honest, the opinion of others has always been important to me, but it should not be above my interests. Previously, I would be ashamed, first of all for myself, that I failed to raise a child so that he shared. Probably, mummies from the site would look at me with condemnation, but I could scold him and explain that it is impossible to do that.
But think, these are his toys and he has the right to decide whether to give them to him or not. He can give, but is NOT obligated to do it at all. I am now talking about a child who is two years old, and not 8-10 years old, i.e. already conscious age.
You can not teach your child good deeds, scolding him or forcing to give his toys, he must come to this himself. I wrote a topic about the ability to say no. And you need to learn this in childhood, so that as an adult you won't be surrounded by others.
At the moment my position is as follows: If he wants, then be sure to share. You just ask him (the one who took the toy).
How to reconcile the kids in the sandbox?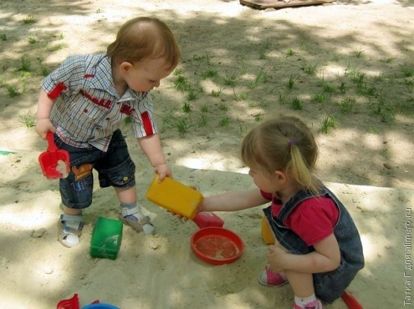 1) The main calm. No need to be angry with your or someone else's baby, pull yourself together, do not show aggression.
2) Offer your baby to share. If that doesn't work, try next time.
3) Try to play with the other kid with this item.
4) Give someone else's baby a different toy, if your baby agrees.
5) If people look at us condemningly, do not pay attention, it is very difficult to prove your position. And you need it? I think hardly.
6) Teach your child to ask permission before taking someone else's toy. So you show respect to others and try to avoid unnecessary conflicts.
Everyone has an opinion about the behavior of their child and the surrounding children. It is different for everyone. I will not persuade anyone. I just want to say one thing. I am very glad that on my life path I met a man who took the time and provided me with a lot of arguments for my dirty mind about how to raise or rehabilitate children.