Surely all children love to do something interesting, for example, to make experiments and experiments. And for moms, this is a great opportunity to tell a child about the world around us and about some physical laws (by the way, I had triples in physics and chemistry, but children do not know). Today we decided to conduct several experiments with paints. I am pleased to show that we did it.
1. We study plants vessels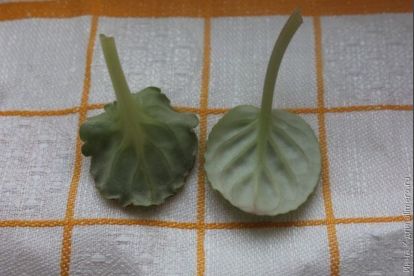 Water and minerals dissolved in it are absorbed by plants from the soil with the help of roots. Trees and flowers have something like our circulatory system and with paint we will see how water gets from the root to the stem and leaves. Cut a couple of leaves from the violet and dissolve the gouache paint – blue and red in water. Then we put leaflets in glasses and wait.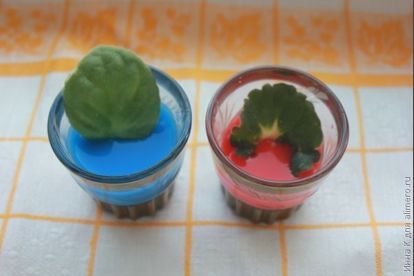 By the way, I had to wait a long time. In the morning we started the experiment and only in the evening we saw colored streaks on the leaves! Unfortunately, no matter how hard I tried to photograph this beauty, nothing is visible, because look at the leaves need to light. But you can do this experiment at home, it is very simple.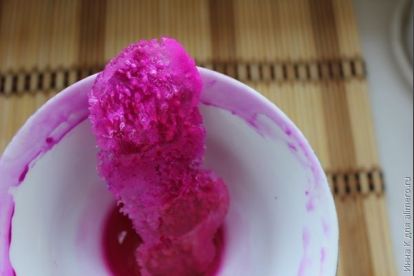 In the next experiment, we will study the properties of water, or rather ice. I repent, I took photos from my old top. It's just that it's scary to let my youngest daughter on the ice and so often gets sick, and the experience is very beautiful. Earlier, snow and ice on the streets were sprinkled with salt to melt. And it melts due to the fact that under the influence of salt the melting point of ice decreases. Those. usually water melts at 0 degrees, and due to salt it may melt at -10.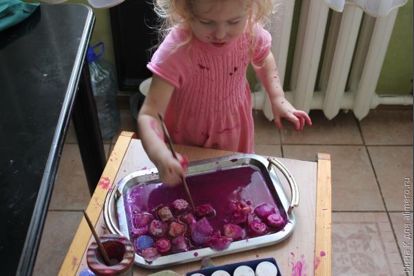 For the experience, we prepare the ice, then sprinkle it on the tray with salt and watch. Literally before our eyes, the surface becomes not smooth, but ribbed. Grains of salt burn ice through. We almost forgot about the paint! To enhance the effect, paint the ice with ordinary gouache, and the paint begins to flow inside the ice floes. That's very beautiful!
3. Action of capillary forces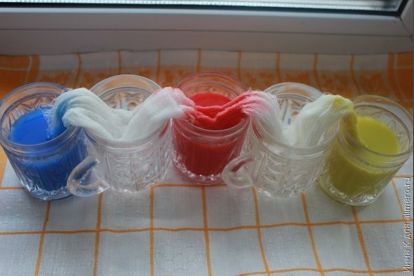 Above, I said that I did not know physics, so the following experiment will explain how I can. In theory, water should be attracted to the ground, but sometimes, under the influence of capillary forces, it can rise up by itself. Check it out! Take the glasses and dilute the paint in a few, and leave the rest empty. We also need a bandage.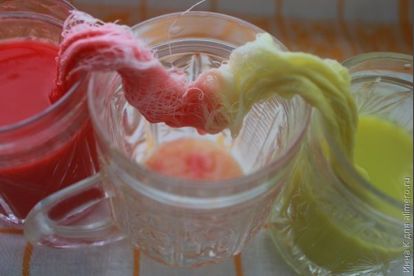 Binktik shoved in cups of paint and make them hang over empty containers. We wait. After a couple of minutes, it will be clear that the colored water began to climb the bintiku! What are we clever, that they took the red and yellow paint, we get orange when mixed 🙂

Hmm … it turned out almost orange, probably red sifted through. But the process itself went right!
4. discolor water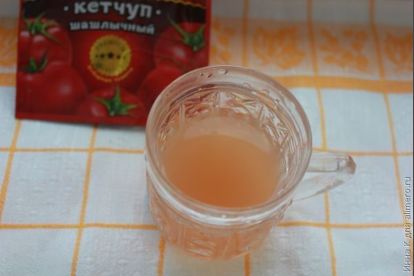 Often we remove any stains with bleach and do not even think about how this happens. Bleach is an oxidizing agent, it reacts with dye molecules and changes their color. Just do not ask why, I have no idea 🙂 My children had this explanation enough.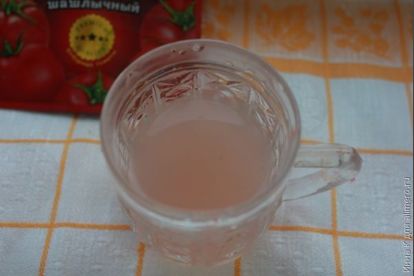 For this experience, we need a food dye, not gouache. We dissolved ketchup in water, and it became so red. Then I added bleach to the water and a hocus-pocus, the water became light! With this experiment, of course, you should not leave the child alone, it can be life-threatening.
5. Soap bubbles get out of control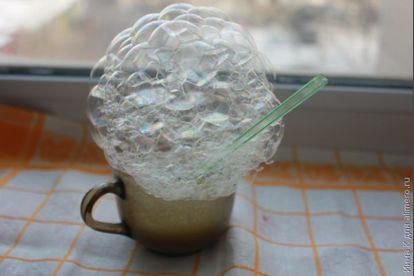 To explain to children what a bubble is, I had to sweat. So, the surface of the water has a surface tension. This can be seen, if you pour water into a mug little by little, as if it would be convex a second before it overflows. And the bubble becomes a bubble, because soap is added to the water to stabilize the surface tension properties. In general, a soap bubble – this is a thin film of water. Thanks to the soap, it does not burst immediately.
Enough theory, let's move on to practice. Pour half a circle of water and dissolve the paint in it to make it more fun. There we also add dishwashing liquid and blow it into the water through a straw. It turns out not just bubbles, but a whole hat! You can take a pipette and drop another paint on top of them. It is interesting to observe how it seeps down. And it is interesting to touch the bubbles.
On this our experiments are over. I would be glad if they come in handy 🙂