Psychologists talk a lot about the fact that you can not suppress the emotions of a child, you must give him the opportunity to throw them out. I try to follow this advice, but where is the boundary? After all, a child can go very far in these emotions.
Two reasons for violent emotions
In all the turbulent negative emotions of my child, I see two main reasons. The first is related to the departure of the father. When he comes to visit her, her behavior surpasses the intensity of emotions. No matter positive or negative. When we try to talk about something among themselves, it immediately demands attention.
She also tries to tell something, shouts over us, demands that we shut up and listen only to her. All this is accompanied by a desperate gesticulation, foot stomping and a cheeky growl. In such situations, I try to gently explain to her that we will now agree and listen with pleasure.
It works far from always, but at least I understand the intensity of emotions. To the second group of reasons I place all the rest. More often it is unwillingness to get up in the morning in the garden, to dress. Sometimes the reaction to the fact that she has something wrong. Then she doesn't just shout that she doesn't want to do something, but punches the floor and stamps her legs.
Sometimes, in a fit of anger rushes at me with angry faces. True, we must pay tribute, does not hit, but only frantically threatens with a finger. But the most shocking for me is when she starts to beat her hands on the head.
On the one hand, it is not so dangerous as to immediately stop the hysterics. But on the other hand, I worry, as if this did not turn into something more serious over time.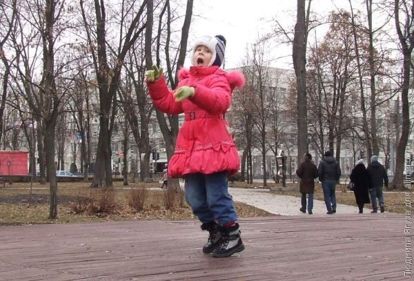 And what to do it?
At one time I tried to sensitize the child, turning to logic. Here you scream and stomp your feet, and what, because of this, you have everything turned out? Not. Then maybe it's better not to shout, but try again? So and so.
But this approach works extremely rarely. More often she continues to fight hysterically. Then I cite one more argument – an old grandmother-neighbor lives downstairs and she gets scared when such a knock comes from above. In general, I try to show how her behavior can affect others.
But when my daughter goes to the balcony to shout, I have no arguments. I think nothing bad will happen if the child just cries out. Well she does not censure obscene. Sometimes on a walk she also wants to just shout loudly: Aaaaaa! Also do not interfere. Somewhere you have to do it.
But what to do with self-torture attempts, I just do not know. Or you should not dwell on them?