Once I became an unwitting witness to one conflict in the playground. And there would be nothing unusual in him if it were not for the consequences thereof, the recruitment of participants and the degree of absurdity.
Unequal battle
A two-year-old baby broke a … seven-year-old boy. Rather, he hit the back with a plastic spatula, the length of which was no more than 15 centimeters.
The kid just came up behind the sitting comrade and hit him with this very spatula. I don't know, maybe that really hurt. Perhaps the two-year offender is the future Wladimir Klitschko, and his blow already today turns out to be weighty (even if there is in the hands only a shoulder that bends in opposite directions).
It is difficult to judge. However, the victim complained mom. She appealed to the parent bully. What could the baby's young mother say? She apologized.
It would seem that the conflict should be exhausted. But no. Mom offended student began to sort things out, to admonish rudely the other side, that she is obliged to monitor the child, if he is aggressive.
The mother of the aggressor rebelled and asked not to insult her child, and she did not choose expressions either. And away we go. Reciprocal insults, obscene language, intentions to call the police! and take the beatings off! injured.
It was funny and somehow unpleasant to watch the conflict of moms. The absurdity of a situation in which a two-year-old silly, acting under the influence of a momentary impulse and not giving a report to his actions, offended a seven-year child, by the way, an athlete, strong and tall boy, caused mixed feelings.
And I thought: should mothers take such an active part in children's conflicts? Especially if the offender is obviously weaker than the victim.
Or is it necessary to give the child the opportunity to resolve the conflict independently? After all, when he grows up mother will not be there all the time. Who will he complain to? And who will defend his interests if he himself does not know how to do this?
This boy is already going to school. And in the children's team is not without fights. How does he cope if, even in the event of such a trivial problem, he ran to his mother?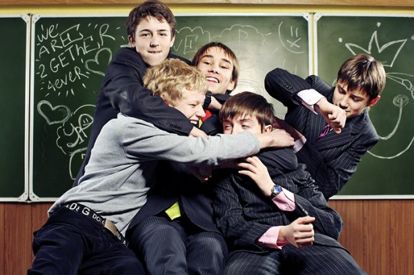 What is this – an innate character trait? Weakness of spirit? Or lack of education?
Personally, I hold the opinion that education is to blame for everything. I could see this with my own example.
Support … dosed
Children are so arranged. They seek protection from their parents, trusting them without limit. It should be so. However, sometimes it is worthwhile to leave them a bit of freedom, so that from a child a self-sufficient person will be able to make decisions and defend his case.
My son is by nature not too aggressive. He does not hit children, does not push, does not bite. However, he will never let go of the toy that will be taken from him. And since he is physically strong boy, this is more often the case.
But at some point I began to notice that he runs to me if something stops following his script.
For example, his toy was somehow in the hands of another child. Instead of going to pick it up or ask her to return it, he runs towards me with the words: Mom, take it.
However, I immediately stopped his attempts to interfere with me in such a showdown. I just explained what to say to the child who took the toy. Words did not work? Ask again. Didn't it work out again? Come and take.
After some time, the son learned a lesson and now he copes with such situations.

Approximately in the same way I taught my son to deal with those who call. For starters, explain that you shouldn't say that. If you do not understand – come and let him in the forehead.
Perhaps you say that I bring up aggression in my son. So be it. But I am sure that in reasonable doses, aggression is useful in modern life.
I have many friends who have already managed to send their children to school. And I approximately represent, with what my son in school collective can face. I absolutely do not want him to become a whipping boy. Sometimes the ability to give change contributes to the harmonious psychological development of the child.
It has long been established that those children who were offended at school grow up with people with a lot of complexes that do not allow them to live a normal life.
In addition, the ability to resolve conflicts, whether with the use of force or in words, fosters independence, courage, teaches to seek and find a way out.
Of course, I do not claim to be completely removed. Not. If you see, for example, that the enemy is much older or the child starts to beat, then you should intervene. After all, even adults sometimes need support, what can we say about babies.
Only this support should be dosed, always in place, so that the child relies, first of all, on his own strength and only then on his mother.