No one is curious than children. It is from them that one can hear hundreds of questions every day, and, although they usually concern obvious phenomena and objects, often we adults find it difficult to answer.
And much depends on our answers and reactions – the child's attitude to certain processes, worldview, vocabulary, ability to think logically, coherent speech, etc. How to satisfy children's curiosity?
Of course, the easiest option is to answer in a simple way Yes, of course, No, in no case, and even worse to dismiss the question with the phrase Come on later or I'm busy.
If I'm really busy (for example, talking on the phone or working), I can ask to wait for my daughter for a few minutes. But the rest of the time I try to answer her questions as fully as possible, with vivid examples – drawings, figures, stories.
As a last resort, if you want to draw with an answer, you can ask. How do you think, why is this happening and not otherwise ?, and while the child is reasoning, you can finish or pause your affairs.
The boring monosyllabic responses of parents are fraught with the fact that the child will go to satisfy his curiosity towards others – for example, grandparents. And if at a younger age it is even more or less harmless, then in adolescence, instead of asking your grandmother, the child will turn to the Internet or the yard company. And who knows how this could end.
I try not to deceive my daughter. We have no stories about policemen with bags or baba under the bed, I think this is meaningless. Similarly, I relate to the explanations about the physiology. Can you imagine what kind of porridge is going on in the child's head, if yesterday he was told that storks bring children, today he learned that they are found in cabbage, and tomorrow he will see a pregnant woman with a small child in her stomach?
It seems to me that you need to answer such delicate questions, you just need to omit the physiological details.
I try to be as honest with my child. We have no stories about gnomes who paint grass (and therefore it is green) and about a dark veil with stars (otherwise, why are they hanging in the sky?).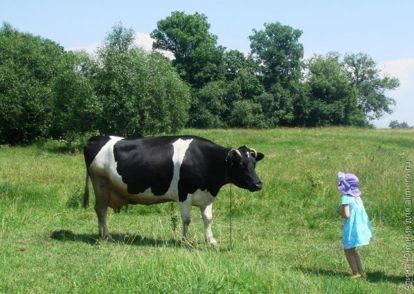 Although too categorical in this regard, I would not call myself. Yes, we believe in Santa Claus, Tooth Fairy and that cats talk at night. But it is rather a fantasy, a certain share of a fairy tale, without which it would be boring. In truth, I still believe that the half-eaten dumpling will cry on a plate, because I ate his parents;)
A great option is to find answers to the questions of interest to the child together. When the daughter began to be interested in the structure of her body (why she was bleeding, for example), we bought her an encyclopedia with colorful illustrations and explanations available to children.
We also have many educational books about insects, fish, animals, dinosaurs, etc. In addition to books, the Internet will come to the rescue – a huge number of videos for all occasions are online. By the way, we have long loved to watch birds and animals through webcams that are installed throughout the world, from the jungle to the North Pole.
A visit to the planetarium will give answers to questions about heaven, information on many animals and phenomena can be obtained at various thematic exhibitions. We have twice been to the exhibition of fish, visited the zoo many times and even visited the archaeological museum.
Do not be lazy and do not be silent, because it is from the parents that the child receives the lion's share of information about the world around him. Indeed, brushing off questions, you can discourage the kid from craving for new knowledge.
Satisfaction of curiosity can be dangerous. I think it's not enough to explain that you shouldn't do or touch something, it's important to tell why you should act in this or that way.
Are your children curious?