In the cold season, I often observe dryness of the skin of my daughter, especially on the legs and arms. Therefore, a children's cream that effectively softens and moisturizes the skin is necessary for us. When the epiphany frosts came, our problem was aggravated and the old cream stopped coping with its task. My daughter and I went to the store for a new one.
It is not surprising that among the whole variety of cosmetics for children in the shop window, the daughter chose this particular cream. Attention every little princess will certainly attract a beautiful bright packaging of this tool. The price of the cream, I think, is quite suitable – about 55 rubles (13 UAH) for a 75 ml tube. Producer – Clover company, Moscow.
Packing and composition
As I have already said, the packaging design is simply gorgeous! A soft, pleasant to the touch tube of delicate pink color with the image of a pretty princess will not leave anyone indifferent. Thanks to the handy lid, the tube is very easy to open with one thumb movement.
The manufacturer promises to soften and moisturize children's skin after using this cream, as well as to restore its protective functions.
Unfortunately, there is no list of ingredients in Russian, so I could not evaluate it immediately before purchase. After returning home, I decided to use the Internet to decipher the information written on the package.
Unfortunately, the second ingredient already disappointed me. Isopropyl Palmitate is a synthetic component made from fatty acids. Its task is to soften and moisturize the skin. As it turned out, this substance is marked with a dangerous sign. I did not find a single natural component in the cream. Honestly, initially a good impression of this product after reading the composition deteriorated completely.
Advantages and disadvantages
I note the pleasant almond smell of the cream, which keeps on the skin for a long time after application. The consistency of the cream is pleasant, silky, not too thick. After application, a slightly perceptible glycerin film remains on the skin.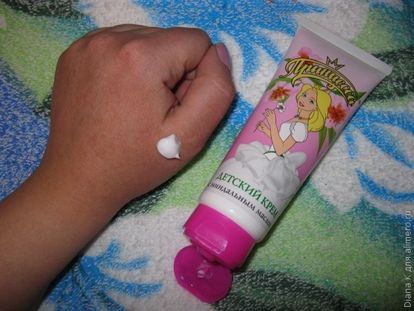 Absorb the cream quickly enough. The skin instantly becomes softer and smoother. It is a pity that such a stunning effect is due not to natural, but chemical components.
My impression of the cream is twofold. On the one hand, it really performs its functions, perfectly softens and moisturizes the skin. On the other – a huge number of chemicals included in its composition. Despite all its advantages, I will not buy this tool again, and I do not advise reader Alimero.