For many parents, children's birthday is a special event. For example, I do not want to collect relatives and arrange a feast at home. For me it is more important to make a holiday for the child.
Now, to arrange an original party for a child is not a problem. The main thing is to have a great desire and money. Unfortunately, such a holiday will be more expensive than going to the house, but then the child will remember it for a long time.
But, to be honest, it's not a small amount to spend on a festive table for adults, given that we would have to prepare several dishes and drinks. But for a holiday in the game room, an elegant menu is not necessary, which means you can save money. But first things first….

Room selection
The eldest daughter this year has already turned 4 years old, and the youngest one is 3. We decided that we will not celebrate at home, and therefore we need to choose a place.
We have a lot of game rooms in the city, where you can celebrate a children's holiday. I first called in a few, found out the prices, conditions and clarified about the date we needed. Then she chose the most suitable, and we went to look around.
In the end, opted for a single game room and booked time. Made a preliminary contract, made a pledge. I really liked the head of this center.
Since we were planning such a holiday for the first time, the question of time was acute for me. It seemed to me that the hours are very short, considering that the animator will entertain children for 30 minutes, and two hours is already plenty. But they decided, nevertheless, to pay for two hours of rent. The decisive factor was that when you pay for such time, dishes are provided for free.
In the end, two hours are perfect for a holiday. The children managed to play on their own, then with the animator and then calmly drank tea.

The choice of animator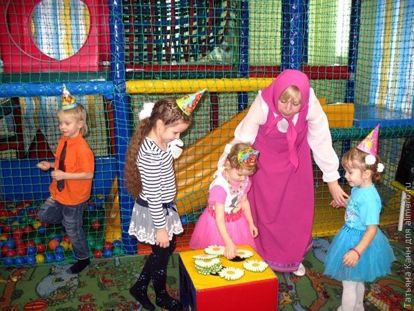 The character who will be entertained by the children was chosen by the birthday girls themselves. However, the fact that they want to invite Masha from the cartoon, I had no doubt. And although we haven't watched the cartoon for a long time, we love this hooligan a lot.
In principle, you can choose any favorite hero. But even on the second birthday, for the youngest daughter, I again had to invite Masha. Since you need everything to be like a sister. We have this strictly.

Menu
After we decided on the place and time of the children's holiday, the question arose about how to treat the guests. We invite mostly children, so the menu should be childish.
I decided that salads and hot not for such holidays, and for good reason. She stopped at the fact that she made a variety of canapes, sliced ​​fruit and baked pizza. Well, of course, I bought a cake. There were also homemade juices and tea.
At first I wanted to order a children's cake, but then I saw ready-made desserts in the form of different heroes in the store. Such and bought.

And, by the way, there was enough food for everyone, both children and adults. Even left.

Guests
I have been thinking about whom to invite. Once a children's holiday, then of course, little sisters and little brothers. But we don't have many of them, and not all of them came. But we were not very upset, the main thing is that my cousin of my daughters came, whom they love very much. They no longer need anyone, always ready to play together.
We also called grandparents and godparents. It turned out that there were more adults than children.
I want to say that our holidays – two children's birthdays – were wonderful. The children were delighted, and this is the most important thing. After the first birthday, we organized the second daughter a holiday there. And if finances allow and nothing changes, I would like these holidays to become a tradition in our family.

How do you celebrate children's birthday parties?